You are the happiest if you really enjoy it.
-----Argerich, Repin and Blechacz
By Hidekazu YOSHIDA
"Record Geijutsu(Music)", December 2007
Hidekazu YOSHIDA is one of the representative music critics in Japan.
Based on his long experience and deep knowledge of music, he describes the beauty of music in-depth. He uses very plain and sensible words but his description is convincing.
Born in 1913, he is now 95 year old.
I this article, first he reflects on performance of Ravel, Beethoven by Martha Argerich, her duo performance of Kreutzer Sonate with Vadim Repin. He then gives thought to Beethoven's violin concerto D Major op62 played by Repin with Vienna Philharmonic conducted by Riccardo Muti.
In both performances by Argerich and Repin, Yoshida says that they reminded him of music played by older generations, like Ignacy Friedman(1882~1948), Yehudi Menuhin, and Wilhelm Furtwängler that Yosida used to listen to when he was young. He says he felt performances by Argerich and Repin quite refreshing and "new" compared to the performances of today, because nowadays, many musicians try to show "unique" interpretations which are different from original intention of composers. He says it is interesting and asks to the readers; "What is new?" for the music.
Then he starts to talk about Rafał Blechacz.
-----------------------------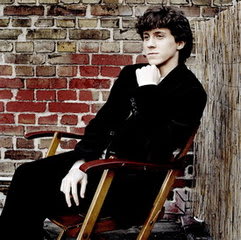 On this occasion, let me say that recently I heard the CD "Chopin 24 Preludes and others" of a young pianist called Rafał Blechacz. I was told that he is quite a talent, making a clean sweep of the 1st prize, Mazurkas, Polonaise, Concerto and Sonata Awards in 2005 Chopin Competition.
When I listened to Blechacz's Preludes, I recalled Argerich's old CD of the same Chopin music. Her music which came upon in my memory was more enjoyable than that of this young man sounding now in front of me. Whether the piece is swift or slow, mechanic or beautifully sung, Argerich's recording was full of sparkling ability.
However, as I kept listening to Blechacz after op-28, from A flat Major (op posth.) to 2 Nocturnes op 62, I noticed that they are close to performances of Chopin players of former times. I found elegance here and there that reminds me of those old days.
His Chopin is different from more recent versions of, for example, Maria Joao Pires and Krystian Zimerman. Definitely his is different from Ivo Pogorelic and Pletnev. Not only different from them, Blechacz's Chopin has something to let you return back to the music of Chopin that you heard once.
I am not the person who always carefully follows Chopin performances, so I might be wrong. But listening to Blechacz, I feel something different from the recent trend in fundamentals of understanding not only Chopin but also the music as a whole. This could be related to the fact that he was praised in a rare manner of getting sweeping victory in 2005 competition. His music could suggest us for direction to feel more of nostalgia for the music in the past rather than the reproduction of old music.