Blechacz toured in Poland in Jan. 2007.
Before the recitals, on Jan.18, he gave a news conference and it was broadcast on TVP 3 and Radio Bialystok.
Related story is here. (Some pictures are available.)
Following is an excerpt from that interview.
"From what my parents say, from a very young age I liked to approach our piano which stood in our house and play various melodies heard: whether from the radio, from the television, from church, Christmas carols, pastorals, hymns. And that's how it began. Later I began learning at the music school in Naklo. I had begun attempting competitions very early. At first they were only national competitions held in Poland, and overall, they always ended rather well for me. And so, I felt confident playing the piano, and as time went on, I grew increasingly convinced that I should continue to do so throughout my life. So everything was moving along steadily, happily until the Chopin Competition, which was, sort of, the most important calling of my life. And I made an effort to approach this competition, by not treating it like some final test or event that would decide whether or not I should become a pianist or not, I simply treated it as the next stage in my career, the next stage in my musical education. Of course, I made a great effort to prepare to present myself from the best possible angle. This approach created a kind of psychological calmness. I also didn't listen to any of the other competitors, so I wasn't aware of my competition. So this all helped in keeping me calm and I focused on my program and my interpretations, and well, the result appears to have been satisfactory.
I'm happy that I am able to play in beautiful places, because it has always been a dream of mine to play for a large audience all over the world, and the Chopin Competition does make that possible - it is something that makes dreams come true. Above all, it opens doors to the most prestigious concert halls around the world. I have already behind me a few important debuts in Europe, and two tour around Japan. I'm soon approaching more important debuts. So of course, winning this competition has had many benefits. I'm also very happy about the recording contract with Deutsche Grammophon consisting of three recording projects, so this too is a big deal for me.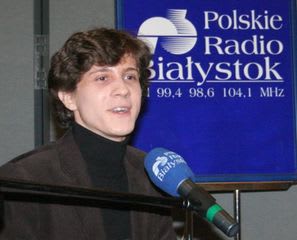 Chopin's music has always been very close to me, and...this composer has a special place in my repertoire - especially after winning the competition. The climate of his music works for me very well, the emotions that exist within the music. The feeling of melancholy whether present in say, the nocturnes or mazurkas is very close to my heart. But of course, one must admit, Chopin's earlier works, his concerti for example contain a great youthful happiness, and were written when Chopin was a very happy person, when he was with his friends, his family, in Warsaw. I'm now a similar age to Chopin when he wrote his concerti and have the privilege to be able to play his works with various orchestra's for a large audience. This makes me extremely happy, that I can show the beauty of Chopin's music to people in a variety of places.
A large task ahead of me is the recording of my first album with solo works by Fryderyk Chopin for Deutsche Grammophon. It will most likely be released some time this autumn. So now I work mainly towards getting the works to be recorded prepared. Of course, I have a few important debuts ahead of me, amongst others, London and two tour in Germany. My dream now is that I complete these debuts successfully so that I will be invited back in the future.
I'm expanding my repertoire all the time. Of course, not only Chopin - I've thought about works by Brahms, I am practicing them, because I believe they can help me further mature. Also, I am very fond of impressionistic music, and there is a good chance that my next CD might contain works by Claude Debussy. Rachmaninoff, also, of course, I plan to prepare the Rhapsody on a Theme of Paganini.
I highly value Kristian Zimmerman. He is a pianist that fascinated me right from the beginning. His pianism, smart career decisions. His wonderful recordings for Deutsche Grammophon have fascinated me. I am happy that after the competition we have contacted each other. Presently, we have only spoken on the phone, but it is likely that soon we will be able meet up, talk about music, and work at the piano.
I have performed seven or eight times with the Warsaw Philharmony since completing the Chopin Competition. And now I am doing a tour around Poland, with the Phlharmony of Bialystok, in Lublin, Rzeszowie, Katowice, Czestochowie. I'm making an effort to compile my concert calendar so that the public of Poland also has a chance to hear me play."
The interview was held in Poland in Jan.2007.
I found the audio interview later in that year, but did not understand Polish interview.
I'm therefore very much appreciative of the person who posted it on Facebook.
The original interview (audio) is already gone from the network.