Sachiko is a young Japanese female and one of the enthusiasts of Rafał Blechacz.
In June 2008, she joined the tour to see Blechacz's recital in Prague and visit his home town Nakło nad Notecią, Poland.
She wrote about how she felt about Blechacz's personality during the tour.
To understand what she wrote, the itinerary was as follows.
June 2 Arrive in Prague
June 4 19:00-21:00 Rafał Blechacz Recital in Prague
June 4 21:00-midnight Reception organized by the sponsor
June 5 Meet with Blechacz and his family at Chopin Manor in Duszniki, southernmost town of Poland close to the boader with the Czech Republic
June 6 Visit Nakło nad Notecią, Poland (Went to the secondary school Blechacz graduated, his parish church and his home. To welcome the Japanese fans, Blechacz played the organ in the church and piano at his home.)
June 7 Transferred to Warsaw
June 8 Left Warsaw for Japan
-------
In retrospect, the days I spent with Rafał Blechacz were over all too soon.
However, each of the days in that week was really substantial.
All that I experienced there could not happen otherwise.
First, let me say that the all family members of Rafał Blechacz are kind and caring.
After playing at the recital in Prague, Blechacz and his family participated in the reception organized by the sponsor.
They were at the reception venue until 2:00 a.m.
Then Blechacz and his family drove the family car to return from Prague to Nakło via Duszniki.
In Duszniki, the Japanese fans visited the Chopin Manor and met Blechacz and his family.
(This is the place where Chopin Piano Festival has been held every summer since 1946,
in commemoration of the episode that Chopin stayed there for recovering health,
and held charity concerts for local orphans.
Blechacz had joined the Chopin Festival several times.
Blechacz showed us around the facilities of the Manor and played the piano in the concert hall there.)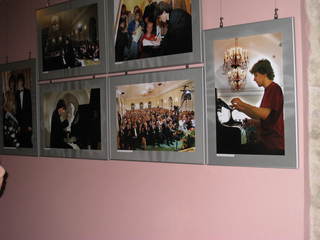 Photos of Duszniki Chopin Festivals in previous years @Chopin Manor
It took three to four hours from Prague to Duszniki and seven to eight hours from Duszniki to Nakło.
Actually, the Japanese fans arrived at the hotel in Bydgoszcz (we stayed there because there is no hotels in Nakło) after midnight.
I believe that the Blechacz family were very tired after driving so long hours.
Still, in order to welcome us, the Blechacz family made a thorough and meticulous preparation
and all of them were very caring, without showing any sign of being tired.
They often said "Thank you" to us.
I cannot forget his mother showed her gratitude by saying "Arigato-gozaimashita (thank you very much in Japanese)"
to each of the Japanese she talked with.
If I talk about Rafał Blechacz, of course he is one of the most distinguished pianists in the world,
and still his attitude when talking with us is nothing but natural and nice.
He might have kept on his toes, but did not let us feel so.
I think he can behave like this because he is confident of himself;
being sure of himself helps him perform music in so solid a manner.
Furthermore, he has learned English well although he is very busy,
and now spends some of his time to learn philosophy and German!
Makig your talent blossomed requires efforts.
If there is a will, there is a way to make efforts. It is true for everyone.
But I felt Rafał is different in that he listens to the person talking to him very carefully;
he never loses any detail that ordinary people may not pay attention.
Rafał and I are of the same generation (I am one year older than Rafał, exactly speaking!),
but it came home to me that I lack something that he has; I have not achieved something in my life;
but I first should have the will to try to achieve something.
I felt that I should learn from him and try to grow further in order to have confidence in myself.
Language is a tool for communication. So it dose not make sense if you do not have what you want to communicate.
I renewed my determination to make my own efforts!
Rafał is superb! Still sometimes he looked exactly his years;
I cannot find a way to describe it right, but there were times that I felt that he looks like, say, some of my classmates in Japan.
Because he is young, I am looking forward to seeing him growing further, transforming himself, to become a further great musician.
The trip helped me understand that Nakło is very far from Japan.
I mean when he tours in Japan, he needs to come all the way from the town in Poland to Japan.
The Japanese fans should know that it is a very precious opportunity for us to be able to attend his concert.
I feel I can go to any city in Japan easily to attend his concert compared to the difficulty that he goes through to come to Japan.
I determined to further appreciate his concerts and bring my relatives and friends there.
It is what I can do to reward to Rafał Blechacz, his family and his people for their warm hospitality extended to us.
I also would like to thank the participants of the tour for their kindness.
It is surprising that I did not know them a week ago!
Before the tour, I was wondering if I could get along with the others.
Actually, I was able to talk a lot about Rafał, his music and classical music in general with them.
It was quite enjoyable, because usually I do not have someone to talk with about such things a lot.
I promised with them that I am seeing them again at Rafał's concerts.
Also, I would like to thank the organizer for giving us such a wonderful occasion!
---------
You can hear Blechacz's performance in 2004 Chopin Festival in Duszniki
(Mazurka op17)
here.