In November 2003, Rafał Blechacz won the 2nd prize in
the 5th Hamamatsu International Piano Competition
together with Alexander Kobrin.
The following is an interview Blechacz gave soon after the competition
and was carried in the Japanese Music Magazine.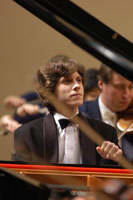 Final stage of the 2003 Hamamatsu Competition
-----
Before coming to Japan, I was not for sure if I could do what I was supposed to do.
But after coming here, everyone was kind and caring, so I was relieved.
I wanted to repay their kindness by performing the music as beautifully as possible.
At any stage during the competition, I did not feel that I was playing for the competition.
I always believed that I was playing my recital
and would like the audience to sense something that I tried to communicate with them.
I have just graduated from Artur Rubinstein State Music School
and now I attend Feliks Nowowiejski Music Academy in Bydgoszcz, located about 30 km from my home.
Only one month has passed since I joined the Academy, so I have not yet been familiar with the school life.
But overall, there is no big change in my day to day life.
I am always busy in practicing the piano and cannot find anything else to enjoy myself.
The first thing I would like to do now is to expand repertoire.
Now I am thinking about joining the 2005 Chopin Piano Competition, so I give my priority to Chopin works.
When playing Chopin music, I feel as if I were dreaming. I think this is the music that represents best my characteristics.
For what I do in daily life except for playing the piano, I live quite an ordinary life.
You can ask my father who accompanies me during my stay in Japan for what I do in everyday life.
(Professor Katarzyna Popowa-Zydron, Blechacz's teacher at Feliks Nowowiejski Music Academy in Bydgoszcz,
came to the venue of the competition to cheer him up after he was selected as one of the finalists.)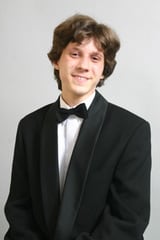 From Hamamatsu program