Interview that Rafał Blechacz gave to "Catholic Guide (Przewodnik Katolicki) in November 2007.
(The original Polish text is
here.
)
What impressed me most was Blechacz's answers to the last two Questions.
Q: Before becoming Mr. virtuoso, like all of us you were seated on the audience side for the concerts of other artists. Which concert do you remember most because of musician's creative mastery and the prevailing atmosphere?
A: There are two such concerts. The recital which has been remaining vividly in my memory is that of Mischa Maisky, an outstanding cellist. I was then 12 years old, when he came to Bydgoszcz. Even today I hear his performance of three suites by Johann Sebastian Bach, which put me under spell.
The second concert I remember well took place in the Pomeranian Philharmonic in Bydgoszcz. There was a choir (composed of boys and men) called "Poznan Nightingales" with its conductor, professor Stefan Stuligrosz. The choir performed "Messiah" by Handel. On that occasion, I heard this work for the first time in its entirety and live.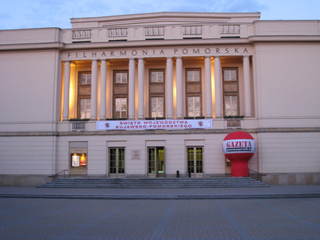 Pomeranian Philharmonic (Filharmonia Pomorska) in Bydgoszcz
Q: Do you agree with the view that music whose beauty remains in your heart, is like a prayer?
A: Of course, music can be a sincere prayer. I decided to express myself through music, because it allows me to transfer the important essence without naming it directly.
I think that not only the audience but also the pianist feels elevated spiritually, by meeting with the beauty of such intercourse. Momentary sounds may release unusual experiences and emotions, which you want to remember for long. In this way, one becomes decidedly better.