Krystian Zimerman held two charity recitals in Japan: one at
Karuizawa OHGA Hall
and another one at
Ryutopia Hall
in Niigata on 11 and 12 of July, 2008, respectively.
As is well known, Rafał Blechacz respects Zimerman very much.
Program @Karuizawa
Mozart sonata No.10 C Major
Beethoven sonata No.8 C Minor "pathétique"
Chopin sonata No.3 B Minor
Program @Niigata
J.S. Bach Partita No. 2 C Minor BWV 826
Beethoven sonata No.8 C Minor "pathétique"
Brahms Four Pieces for Piano, Op. 119
Bacewicz Sonata No.2
One of the Blechacz's fans attended both of the recitals.
On the first day in Karuizawa, she was deeply impressed by the performance, especially by Chopin Sonata No.3.
After the recital, she went to the railway station to go to next venue Niigata, and saw Zimerman and his team standing on the platform.
The following is the story there that she e-mailed to me.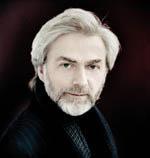 Krystian Zimerman
-----
When I saw Zimerman on the platform, I just ran up to him and clasped his hands, and said in Japanese,
"Blechacz wo Yorosikune! (Blechacz...Could you please take care of Blechacz!)"
Without any hesitation, Zimerman said,
"...my friend..."
I heard clearly Zimerman talking about Rafał as "Friend". I have an ear for music and I hear the words well.
Zimerman, one of the greatest pianists in the world, called Rafał friend, although Rafał is at the age of his son. How heartwarming and generous a person he is!
I believe Zimerman really loves Rafał.
Zimerman decided to hold a concert in Niigata in addition to Karuizawa, because there were big earthquakes there twice in the last few years and he wanted to do something to help people there. He played there without being paid. Rather, he paid all the costs for the concert including the cost for transporting his piano.
I sincerely believe that Zimerman is a man of great character. Like Rafał, I also respect Zimerman very much.