Rafał Blechacz played Saint-Saëns piano concerto No. 2 with Royal Concertgebouw Orchestra (RCO) on Aug.21 at Amsterdam Concertgebouw, directed by Andris Nelsons.
The concert was broadcast via Duch Radio 4 and Swiss radio station live from the concert hall, so I was able to hear the concert staying at home in Tokyo, Japan.
(How fortunate it is for the listener! and how tough for the performers that today's technology is available to have a concert in Europe heard around the world as it is played.)
Blechacz's beautiful and sophisticated piano sound was brought out harmonized with RCO sound to the highest degree: so harmonized that I first did not notice the cadenza starting in the first movement.
In the second movement, Belchacz's witty passagework was fascinating. The orchestra devoted to being an accompaniment, but all the instruments' sounds were light and lively and effectively supported the piano, especially the pizzicato of cello and bass was blending well with the piano sound.
I really love the way Rafał's playing every note crystal-clear.
The third movement was perfect for Rafał's feat. Even a person who has no taste for the music cannot be bored.
Technically, his performance was nearly perfect, especially swift passagework of the third movement was wonderfully flown (I cannot find an appropriate word to express my excitement) but there was more. His piano is NOT a circus presentation. The noble sound with quiet passion is really fulfilling.
I have the recording of the same piece played by Rubinstein, but I like Blechacz's better. (sorry!)
Let me extend my heartfelt appreciation to Rafał Blechacz for such an exquisite music (as always).
I sincerely hope that he is takig his time to be relaxed, giving his heart and mind a rest during the short intermission before Oct.
It is not about Blechacz, but I found that the the way Andris Nelsons conducts the orchestra is very similar to his mentor Marris Jansons. (I watched him conducting in the Youtube.)
When seen from behind, you cannot tell if he is Jansons or Nelsons. Even the facial expression is exactly the same!
In Oct., Blechacz is going to play with NY philharmonic; the conductor is Ms.Marin Alsop. Again, how she conducts is reminiscent of Leonard Bernstein! For me, it is a happy coincidence, because I love both Jansons and Bernstein very much.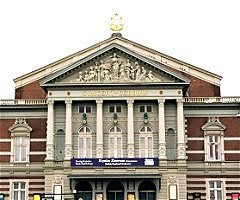 For a Polish visitor, this is
the Polish site
describing the recent events about Rafał Blechacz: new CD to be released in Oct., (with two versions in Poland with Blechacz's remarks on the pieces), success at Salzburg, plans for next recordings, and so on.
For an international visitor,
this is machine-translated text of the same page
(the English is understandable.)
-----