Rafał Blechacz's recital at Verbier Festival on July 31, 2008 is now availabe with streaming service.
Please click either of the two links on the top-left of this page, and you will reach Blechacz's recital.
The filmed music are:
Johann Sebastian Bach
Italian Concerto in F major BWV 971
Franz Liszt
Three Concert Studies
Frédéric Chopin
Three mazurkas op. 50
Sonata op. 58
Encores: Chopin Mazurka op17-2, Waltz op64-2
Yuko is one of the long standing fans of Rafał Blechacz since 2003
when she attended the 5th Hamamatsu International Piano Competition
and was touched by the beautiful piano by Rafal Blechacz.
In the email she sent to me for different business today,
she said she was deeply impressed by the video performance.
"It is really moving.
Actually, it is for the first time that I get a close-up view of his hands
to the extent that I can observe every fingerwork.
I felt he has obtained more profound interpretations of each music, which is superb, isn't it?
I found myself listening to his music intently
leaving my children unattended for some time although they got hungry".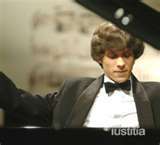 Another Rafal enthusiast, Marsha, shares her impression of the recital as follows:
First, let me say that Rafał's recital went extremely well.
Furtheremore, what I call Rafał Blechacz Sound has been kept untainted.
In "Italian Concerto", Rafał expressed compassionate Bach music.
His rendition has a warmth that let me compare it to the woodwork.
In the third movement, he was really into it right along the flow of swift passages.
He plays "La leggerezza" with marvellously even and careful touch evoking the precision of artisan.
With "Waldesrauschen", he demonstrated an exceptional sense of balance.
I felt his left hand playing a role of the second voice in "Gnomenreigen".
Mazurka, his favorite did my heart good.
I love the stunning way he plays the fortissimo in the last two bars to finish No.3 of op50.
Chopin Sonata No.3 was really inspiring.
I felt he has even more deeply explored this piece to demonstrate expressiveness and coloristic beauty.
The third movement, in particular, made me almost cry.
The timing he connects phrases is just exquisite.
I am wondering why Rafał's piano strikes a chord in listners' hearts.
While listening to his rendition, I put my hands at the chest.
It was grateful that I was able to see how he plays the instrument;
the way he puts weight onto keyboards;
how he exerts special devotion to the music when it really matters.
I felt so close to him as to hear his breathing.
I was really fulfilled by the concert that I saw for the first time in more than one year.