On Aug. 21, 2008, Rafał Blechacz played piano concerto No. 2 by Charles Camille Saint-Saëns with Royal Concertgebouw Orchestra (RCO) at Concertgegouw of Amsterdam, the Netherlands.
The concert was recorded and will webcast via German radio SWR2, at 20:03 on Aug. 29.
(Germany local time).
To hear the program, please click Webradio horen on the left side of the page.
Program
Claude Debussy :Prélude à l'après-midi d'un faune
Camille Saint-Saëns : pianoconcert No.2 op. 22
Tchaikovsky :Symphony No.6 'Pathétique'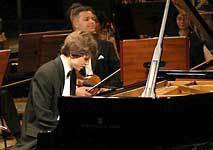 Please excuse me in case of a sudden change of the program and/or a poor reception of the streaming data.