I had Dana, a Polish fan of Rafał Blechacz e-mailing me recently.
She attended Blechacz recital at Salzburg on Aug.15 and shared with me the photos she took after the recital.
I am very pleased to see smiling Rafał Blechacz after he performed in that bold, exciting and masculine manner.
Thank you Dana, and let me share it with other Blechacz fans.
Rafał Blechacz after Salzburg recital
Mozarteum photographed by Dana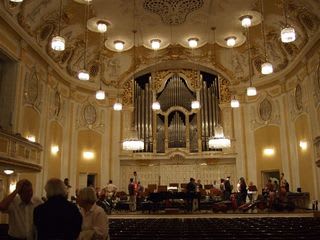 Another photo of Mozarteum contributed by a Japanese
who visited there in August (not for Rafal's recital)
---------
Dana attended Rafał's concerts at Amsterdam Concertgebouw on Oct.7, 2007,
and at Poznan on Nov.10, 2007 soon after Preludes, his first CD from Deutsche Grammophon won the platinum disc in Poland.
On the following day, she joined a commemorative event held at Empik in Poznan, a major music shop where Rafał Blechacz met the fans.
Dana told him that she went to the recital at Concertgebouw in the previous month,
and Rafał's answer was;
(I will quote the relevant part of Dana's mail)
--------------
"There was super, wasn't it? " super for me, for him, for all people who were in Concertgebouw in that evening, all were glad to hear beautiful musik together with him.
Maybe this sentence is difficilt to understend ,maybe it is only in Polish.
--------------
I suppose Dana says that Rafał described how the audience was inspired and united with the pianist by the beauty of the music.
I listened the recital at Concertgebouw via webradio. I felt unusual excitement and energy from the performance.
Actually, I prefer Preludes op28 played in Concertgegouw to the recorded CD.
The following is the video of the event at Empik.
(outlines of Blechacz's remarks in the video)
The preparations were perfect.
The photo session was carried out in Berlin a few months before the recording (of CD "Preludes").
It took a full one day. Photos were taken with a variety of pose and style; best ones were selected for promotional campaigns and the CD jacket.
Talking about the recording (of Preludes), it took place at the studio in Hamburg in July, 2007.
I spent approximately one week for the recording.
For me, that was sufficient; I was able to do experiment to full extent and select best versions from among pieces recorded during the period.
I spent the first two days to grasp and sense the instrument; the piano that I chose a few months before the recording.
What happened first was, of course, to set the microphones; then I had a coordinating meeting with the music director.
After that, hours between 13:00 and 20:00 were spent for the recording.
What was most important for me was to create one integrated unit, cycle of music from the 24 works of op-28.
To this end, I decided to perform a long session to feel an atmosphere similar to the actual concert.
First, I recorded the first 12 Preludes of op28, then another 12 pieces in the second half followed.
I repeated this series four or five times.
Then, the best ones were selected for the CD: typically, second from the last recorded one was picked.
Sometimes, I returned back to a Prelude already recorded and re-performed for that perticular piece trying to make it better.
Roughly speaking, I completed recording of Preludes op28 on the first day and recorded the remaining two Preludes (posthumous and op45) and Nocturnes during the second day.
They put together the master CDs very quickly, which I received early Aug.
I listened to the recordings day and night and selected the best version.
I had the final version sent to me in late Aug.
After that, we got started promotional activities.
(Acknowledgments: I put together this Englishe outline based on the translated Japanese that was prepared by Kuma, a Japanese woman living in Poland. First, her Polish husband watched the video and translated it into English; then she translated from English to Japanese and sent it to me in spring this year. Let me thank Kuma and her husband.
Now I translated the Japanese version back into English. Therefore, this is not a precise translation. But I beleive it conveys basic idea of Blechacz's remarks)
----------
Dana also sent to me the article "Chopin is always in my heart."
I suppose it describes who Rafał Blechacz is.
Although written in Polish, I believe that the readers will enjoy beautiful photos of Rafał , as a professional who always quests for the highest.
here.