Rafał Blechacz Recital at Salzburg Festival on Aug.15 will be on air by BBC 3 at 19:00 on Sept.30.
(Extracts only, following the concert by the City of Birmingham Symphony Orchestra, conducted by new Music Director Andris Nelsons earlier Sept.)
BBC Radio 3.
Blechacz's performance at Salzburg was enthusiastically accepted by the audience. The ovation continued for 15 minutes.
A week later, Blechacz played Saint-Saens piano concerto No.2 with Royal Concertgebouw Orchestra conduced by Andris Nelsons. Again, really moving concert.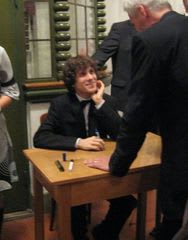 Blechacz @autographic session
after Salzburg recital
(contributed by Dana, a visiting fan)
Release info of CD "sonatas" in NL. Release date is Sept. 25.
Site of Universal in US. You can here all the tracks of new CD partially. Release date was Sept. 23.