This is the interview that Rafał Blechacz gave during Japan tour in June, 2007.

The interviewer was Mr. Koji Shimoda, a pianist, piano teacher and music critic.
He taught piano at Elsner Secondary Music School in Poland.
He has a comprehensive writing about Chopin's works and has written many music reviews and program notes.

When I first encountered Rafał Blechacz's piano, Mr. Shimoda's text in the CD of Blechacz in 2005 Chopin Competition was extremely helpful in understanding why Blechacz's piano was so deeply moving.
To give logically persuasive explanation about emotions and feelings provoked by music is very difficult.
Mr. Shimoda truly understands Blechacz and his music. Therefore, I feel his reviews/wrintings reliable.

Mr. Shimoda wrote the linernotes of Blechacz's CD "Preludes" Japanese version,
and this interview was used as its base.

The interview is long, so I divided it into two parts.
--------



No end to the beauty of his piano, always striking the heart of Chopin.
The rare advent of an European orthodox pianist--
His name is Rafał Blechacz.



"24 Preludes suit perfectly to my sensitivity", says Rafał Blechacz.



"I am very honored to be able to conclude the exclusive contract with Deutsche Grammophon.
The Contract remains in force for five years. Currently the plan to release three discs is underway".


--Mr. Blechacz talks with shining eyes befitting 22-year-old youth but he is very quiet in his manner.
I interviewed him on June 13, during his Japan tour between late May and June, 2007.
It was just before the planned recording of his first CD Chopin Preludes under the label of Deutsche Grammophon.---

"The reason why I selected 24 Preludes for my first recording with DG is first of all, I have been well prepared.
I have been playing these works for some time;
I picked six out of 24 Preludes for the 2005 Chopin Competition in Warsaw;
I played the first 12 during my Japan tour in 2006 and remaining 12 during 2007 Japan tour.

I have spent sufficient time to study these pieces deeply and played them in concerts repeatedly.

More importantly, these Preludes fit well with my sensitivity;
the 24 pieces are well composed to the extent that I can demonstrate my potentiality to full
from both pianistic and artistic aspects.

If I add one more thing, Deutsche Grammophon dose not have recent recording of Chopin's 24 Preludes".



In 2005 Chopin competition, it was recommended that contestants use Ekier Edition.
My observation was, however, Mr. Blechacz, you basically used Paderewski Edition for the performance.
What is your view of selecting the edition for your recording of 24 Preludes?
"Usually, I use Paderewski for all the works; it is not limited to "24 Preludes".
It is the edition I have been using since I was young;
I am familiar to this and it is the edition that I think is reasonably reliable.

However, when I play No.9 E Major, based on my study of Autographs Edition, it is effectively the same as Ekier (National Edition).

On the other hand, concerning No 8. F Sharp Minor for example,
although there are several differences between Autographs and Paderewski Editions,
I have been playing based on Paderewski, because there is no harmonic inconvenience with Paderewski,
some of which became Urtext.


Next question is sound characteristics of pianists.
I feel that the sound by Russian pianists is crisp and brilliant
while traditional sound produced by Polish pianists is more deep and calm-headed.

My impression about your piano sound, Mr. Blechacz, is a hybrid of merits of both; yours is excellent;
it is as if the body of profound sound wears gorgeous dress.
But when it comes to reproducing such sounds on the recorded CD, I suppose it entails difficulties. Any concern?

"The recording will take place at Hamburg Studio in Hamburg, Germany.
The studio has a reputation as a quality studio often used for recordings.
Under the current plan, I am going to work with a team with good experience,
including the recording engineer who recently worked for Zimmerman for recording Brahms piano concerto.
So, I am not worried.




from Japan Tour pamphlet


People say that you try not to listen to others' performances too much.
But I suppose you listened to some of the recordings of Chopin's Preludes in order to complete your recording.
"Of course I have Preludes by Argerich and I have heard Sokolov's recording.
I also listened to Arrau, Rubinstein, Cherkassky, and…ah, Pogorelich.
However I care more about how I should interpret and express the works
after coming in touch with such interpretations. It is a matter of course."



What ideal image are you going to embrace for recording the works?


"Each of Preludes is small and short.
First of all, I grasp them as one large work.
Based on that, I need to disentangle the whole unit into each Prelude in order to express details.
Difficult part is how to strike a balance between the details and overall dramatism.
Therefore, for recording, I would like to take long duration to play several Preludes consecutively.
The idea is to play them in an atmosphere similar to the real performance on the stage so that I can make each of the works compelling."

Looking back, you have been taking unique approach in playing Preludes for recitals in Japan.
As you said before, you played Preludes 7 to 12 in Chopin Competition, 1 to 12 for recitals during 2006 Japan tour and the remaining 13 to 24 in the current Japan tour.
"I give due consideration to the balance as a recital.
For 2006 Japan tour, for example, I decided to play Polonaise-Fantaisie and Chopin piano sonata No.3 first.
If I play all the 24 Preludes in addition to them, the program could be too heavy.
Therefore, I picked the first 12 Preludes.
Furthermore, as I kept the rest of Preludes until this year's Japan tour, I was able to mature them and show better version of my performance to the Japanese audience.


Deutsche Grammohpon already has recordings by Argerich and Pollini,
master pianists and your predecessors as a victor of Chopin competition.
Don't you have sense of awe in joining such a list?
"Obviously, I am enthusiastic about trying to attain the possible highest level with my first recording from DG.
because for me it will be the debut recording.

But I have no intention to make listeners surprised or shocked with the CD.
What I would like to do is to represent with the instrument what I have read from the score,
putting my highest respect to Chopin into it.
First Chopin is out here. Then comes I. That's how it is supposed to be."

Your remark has reminded me of the attitude of Krystian Zimerman toward interpretations:
studying scores deeply; cautiously expanding repertoire, etc…
Mr. Blechacz, you spent five days with Zimerman in Switzerland this February. How did it affect you?
"Immediately after the Chopin Competition, Krystian helped me a lot
by making efforts to put my concert activities on the right track
and giving me precious advice about repertoire.

When I stayed with him in Switzerland, I played Haydn, Beethoven, Debussy and Chopin's Preludes before him.
I found that all of his interpretations of music are what he has derived from composers' texts,
although some of them look quite bold.

I am grateful that he didn't deny and respected how I feel the music.
Based on my basic interpretation, he offered me a lot of suggestions".

I've been informed that you concluded a five-year exclusive contract with Deutsche Grammophon.
What is next on the plan after recording Chopin Preludes?
"The current plan includes three recordings.
First is the recording of Chopin's 24 Preludes and others.
Second is solo album of recording other composers than Chopin.
And the third will be Chopin's two piano concertos, in commemoration of 200th anniversary of Chopin's birth in 2010".



Which composers are you thinking for the second CD?


" I have not yet finalized it but I am thinking about classical music such as Beethoven and Haydn.
I am fascinated by the simple beauty of, for example, Haydn.
Generally, works of classical composers are very close to my sensitivity.
If I have the opportunity to record works of Bach, it will be his Suites".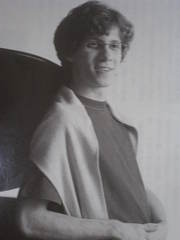 Blechacz during interview with Shimoda




What about Rachmaninoff?


"I am really interested in that!!
There are many terrific piano works by Rachnaninoff. Playing them should expand my pinanistic potentiality.

I deeply love Chopin. No doubt about that.
But I have studied the extensive repertoire and I will continue it.
In this sense, I will not be labeled as so-called 'Chopin player'."

During the Japan tour of this year, you played Chopin piano concerto No.1
with Russian National Orchestra conducted by Pletnev and the Chopin concerto was arranged by Pletnev.
How did you feel when playing the adapted version? I think for recording you will play with the orthodox edition.
"The arrangement done by Maestro Pletnev made a bold step into some piano parts,
e.g. in the third movement, some piano parts were replaced by woodwind instruments.

In the first movement, he instructed the orchestra to raise some strings' parts an octave,
making the sound getting closer to Rachmaninoff and Tchaikovsky.

The role of orchestra in Chopin piano concerto is accompaniment in most parts,
so I think the Maestro arranged to let his orchestra play more important role.
For me, it was truly valuable experience to perform that unprecedented version of Chopin
with such a great maestro and wonderful orchestra.
Actually, I conveyed my message through my performance to the orchestra and I was rightly responded;
it is rare to have this experience".