This is the review of "Chopin Preludes", the first CD Rafał Blechacz released from Deutsche Grammophon a year ago.
The review was written by Mr. Sebastien Dupuis in Feb. 2008. When I found this review, I circulated it to Japanese Blechacz fans as my routine but I did not post this on this site, feeling that his description is too naive.
But we have only a few weeks to go before the new CD: "sonatas--haydn, mozart, beethoven" is released.
(And let me say that you will inevitably be absorbed deeply in the beauty of Rafał's classicals.)
Furthermore, Dana, my Polish friend sent me the same article days ago, saying it's beautiful.
I was very pleased to know that Dana found and read the same article of Rafał in her country that is far from mine.
According to Dana, Sebastien Dupuis has ended and received the title of Master of piano in Royal Conservatory in Brussels (Belgium)-2007.
Now, he works as a teacher of piano in Bordeaux in France and sometimes gives recitals.
I hope that the article will remind you of the beauty of Preludes.
The original text is here (French).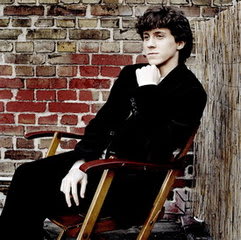 Sometimes miracle happens in the musical world;
when you think that a young man of 22 years old suddenly finds himself thrown in a pantheon of discography
alongside with Zimerman, Argerich and Pollini.
But I already regret having written the name of Zimerman twice in this article talking about Rafał Blechacz,
because this pianist deserves more than a comparison.
We need to recognize his unique artistic identity, even if his approach is closer to that pianist.
Rafał Blechacz is a gift, total renewal of the musical world where the sound has been restored by his subtle and powerful personality.
He is powerful but not like those young virtuosos who ravage everything by their immense talent;
he is powerful like a large river, that is forceful and slow and flows peacefully along the path traced on the land;
nothing makes it stop; and it gradually reaches the ocean for pouring to the infinite extent.
With his unique personality, his new vision of works by Chopin, and his sense of touch,
Rafał Blechacz was made a new messiah of pianists.
His approach to the piano proves once again that there is always a new door to a new universe not yet explored.
The Blechacz's universe is characterized by the silence, singing right hand, restraint, generosity of sound, prowess of pedaling and perfect articulation.
In 24 Preludes, which give us the impression of being too well known so far,
the pianist has restored the Chopin music that he has deeply loved and he could not bear to see mediocre.
Rafał Blechacz is a liberator of the world of music; he has removed the fear of forgetting Chopin.
I would say that he brought to us something compelling that this is how Chopin should be played and that it has always been so.
Blechacz has chosen two nocturnes op62 to close his first disc.
Both are masterpieces that suggest the direction of the young pianist
and leave us dreaming until the release of the next CD we are anxiously waiting for.
What a wonder that this fabulous pianist who leads us to discover is still at the very beginning of his long road to artistic maturity.
Unfortunately, words are not enough to transcribe the emotions on this disc.
I strongly recommend that all the people around the world are aware of and listen to his music. (by Sebastien Dupuis)