Nikkei Newspaper (economic/financial news daily in Japan) introduced "rafał blechacz sonatas—haydn, mozart, beethoven"
in its disc review column of the evening edition as of Sept. 19, 2008,
alongside with such CDs as "Songs for Tibet—The Art of Peace"
a compilation by Sting, Alanis Morissette, John Mayer and other renowned singers,
"Blacl Narcissus (Black narcissus)" by Renee Rosness (Canadian Jazz singer), and
"Hommage a Grappelli" by Benjamin Schmid (Jazz in this case).
After a brief introduction of Rafał Blechacz, the columnist says that Blechacz proves his authenticity by playing Haydn, Beethoven and Mozart in the new CD
which was released in Japan in line with his debut in Salzburg Festival of this summer.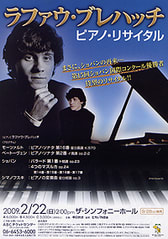 Poster of recital in Osaka, Japan in Feb. 2009
(The yellow letters on the top means Rafał Blechacz in Japanese.
The following white ones are Piano Recital.)
Nikkei is Japan's Wall Street Journal or Financial Times;
circulation is 3.1 million copies compared to NY Times 1.1 million and readership is business persons and professionals.
The paper sets aside only a limited space for articles about culture
and cultural stories are written in a condensed manner.
I believe therefore, the fact that Nikkei selected Blehcacz's new CD in its narrow space is quite significant.
Site of Universal Japan. Demo listening of the new CD is available. (More tracks than DG!!)
Empik.com site for Blechacz new CD. (Polish)