Rafał Blechacz gave interviews to Polish media in line with the release of his new CD "sonatas--haydn, mozart, beethoven".
Let me post "abstract" from the two articles. (
Other recent interviews with Polish media are posted here
)
Original Polish article of the interview with Jacek Hawryluk, Gazeta Wyborcza, infomuzyka.pl
Original Polish article of the interview with Magdalena Todynek, Empik.
Abstracts:
Interview with Jacek Hawryluk
(This is a part of the interview Blechacz gave for the Polish radio program broadcast on Sept.28.
Link to the story related to the radio program.
)
About the sonatas by Haydn E flat major and Beethoven op2,
Blechacz talks about influence of their orchestral as well as quartet/chamber music experience on these piano music
and Haydn's affecting on Beethoven who was still young, elegant and classical.
About Mozart sonata D major, Blechacz says that he played this piece repeatedly on the stage and decided to include it in the CD.
He feels closer to Mozart because he is in the same age group with young Mozart when the piece was composed:
feeling the joy of life, energy; feeling that everything is going on.
Blechacz remembers the time when he played Mozart piano concerto No.23 kv488 with maestro Maksymiuk shortly before the competition.
Before the second movement, the maestro said,
"It could not be written by a man; it could be written by the God.
The God led the hands of Mozart".
Blechacz says, "I had that feeling when I played the lyrical second movement.
For the past year, Blechacz says he was able to play for important concerts,
such as a recital at Concertgebouw in Amsterdam –a magic venue with excellent acoustics and audience and a recital at Salzburg festival.
In 2010 Chopin year, he will play at Konzerthaus in Vienna and the CD of Chopin's two concertos will be released.
He says a great orchestra and a wonderful maestro will work with him, but he cannot reveal who they are now.
Blechacz continues studies of philosophy by getting individual lessons.
He listens to the recording of Pollini while driving.
Blechacz met Pollini in Salzburg after attending his recital and feels grateful to him for suggesting a support/advice.
-----------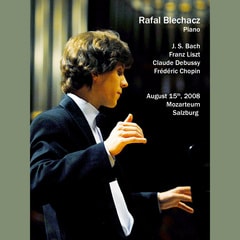 Cover of Salzburg recording
Interview with Magdalena Todynek
Blechacz talks about how his life changed after the competition, how he feels appreciative of for the kind supports by Zimerman.
He is also grateful to Deutsche Grammohpn for giving him a wide freedom in artistic creation.
After referring to the platinum disc he obtained for the first DG CD Chopin's Preludes and the background story of choosing three composers' sonatas for the second DG recording,
he reiterates the importance of classical repertoire in that it helps him deepen the understanding of Chopin music.
Blechacz says that by writing his comments for the liner notes of the three sonatas' CD, he tried to capture the most important aspects for him.
He expressed his expectations on his debut concerts in NY (the interview took place before that).
He is going to play UK, Spain, Germany, Japan, France and the NL.
The next concert in Poland will be on March 20 and 21 in Warsaw to play Piano concerto No. 4 by Beethoven.
During the concert tours, he says that there is no time for sightseeing, regrettably.
Blechacz says driving a car and reading is a source of relax; he likes George Gershwin and while driving he listens to other kind of music (light music, etc..) helped by his sister.
He talks about the Chopin Concertos' CD to be released in 2010,
but says that he want to keep who are the orchestra and the conductor for now.
--------------------
I love the story of Mozart concerto No.23 second movement in the first interview.
It reminded me again of what Blechacz wrote about the second movement in his latest CD note.
"I feel that the middle movement is often the "heart" of a work.
It is the place where the composer, as well as the performer, takes the opportunity to reveal in sound
everything lurking in the deepest reaches of his soul.
He is free to articulate everything while still leaving it nameless".
On another occasion, I heard Blechacz said that the second movement of Beethoven piano concerto No.4 is beautiful.
I am really looking forward to listening to his Beethoven No.4.
I am also pleased that Blechacz says he likes Gershwin.
('cause I often have Gershwin's piano played while doing job prep.: reading documentations for an assigned next conference.
I Got Rhythm for that.)
---------------------
The following are links of introductions/reviews on Blechacz's new CD from Polish media.
onet.pl (original Polish)
English (machine translated)
Plus.pl (original Polish)
English (machine translated)
Kulturaonline.pl (original Polish)
English (machine translated)