PAP (Polska Agencja Prasowa: Polish Press Agency):
Polonia dla Polonii (the Polish site for the Polish people abroad run by PAP)
has posted the news of Blechacz's recent NY debut.
The link to the PAP is here.
The site lists news items and the listing sequence is liquid.
So I copy the contents of Blechacz.
USA: Nowojorski debiut Rafala Blechacza
Rafał Blechacz swoje występy rozpoczął recitalem (Mozart, Debussy, Szymanowski, Chopin) w Grace Rainey Rogers Auditorium (Metropolitan Museum of Art) w sobotę, 4 października i od razu odniósł olbrzymi sukces. W wypełnionej po brzegi sali otrzymał dluga owacje na stojąco, za co odwdzięczył się dwoma bisami. Następnie, we wtorek, 7 października wystąpił w Avery Fisher Hall ze słynną orkiestą New York Philharmonic pod batuta dyrygentki Marin Alsop grając Koncert Nr 2 Fryderyka Chopina. Program wieczoru zawierał także utwory orkiestrowe Bartoka i Dworzaka. Koncert ten został powtórzony w sobotę, 11 października w tym samym miejscu i w tym samym składzie.
Po wtorkowym występie, Anthony Tommasini, głowny krytyk muzyczny "New York Times,a" napisał nadzwyczaj pochlebną recenzję, podkreślając, że Rafal Blechacz zagral Koncert Chopina w sposob wdzięczny, przemyślany i poetycki, wyróżniając się płynnymi pasażami i delikatnymi biegnikami, szczególnie w elegancko ozdobionych, rozmarzonych frazach powolnej części koncertu. (NYT, Oct. 8, 2008).
W sobotę, 11 października, Rafał Blechacz zagrał ten Koncert równie pięknie i wrażliwie jak we wtorek. Jego precyzyjne, zdecydowane, eleganckie i delikatne wykonanie zabrzmiało jeszcze pełniej, głównie dlatego, że orkiestra New York Philharmonic i dyrygentka, Marin Alsop, podporządkowały się jeszcze bardziej stylowi solisty. Jakby z pewną dozą zdziwienia orkiestra i dyrygentka odkrywali i przekonywali sie – a był to proces zapoczątkowany już we wtorek i pewno przedtem na próbach - że przeciez interpretacja polskiego wirtuoza, to jest właśnie to!, że to przecież oczywiste, iż tylko tak a nie inaczej Koncert ten należy grać. Można chyba powiedzieć, że wykonanie sobotnie było kulminacją tego przekonania. Świadczy to dobrze o orkiestrze i dyrygentce, o tym, że znakomita ich reputacja nie jest dziełem przypadku.
Roman Frackowski, USA, 16 października 2008 r.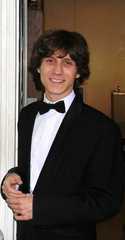 Rafał Blechacz w kuluarach po nowojorskim koncercie.
Rafał Blechacz in the artist room after the concert in New York
The news was informed by Mr.Roman Frackowski, Princeton, New Jersey, USA,
the same American contributor as yesterday.
Thank you very much Mr.Frackowski for your kind support.
----------------
The following is an English translation of the article.
U.S.: Rafał Blechacz New York debut
Rafał Blechacz's performances began with a recital (Mozart, Debussy, Szymanowski, Chopin) in the Grace Rainey Rogers Auditorium (Metropolitan Museum of Art) on Saturday, October 4, and immediately made a huge success.
In the hall filled to the brim, he was applauded by standing ovations for long and rewarded the audience with two pieces of encore.
Then, on Tuesday, 7 October, he appeared on the stage of Avery Fisher Hall with the famous orchestra New York Philharmonic under the baton of Marin Alsop, playing Concerto No. 2 by Frederic Chopin.
The evening program included a orchestral works of Bartók and Dvořák. The concert was repeated on Saturday, 11 October in the same place.
After the Tuesday performance, Anthony Tommasini, chief music critic of the New York Times admired Blechacz in his riview,
stressing that Rafał Blechacz played Chopin's Concerto in a graceful, thoughtful and poetic manner, while singling out liquid passage work and delicate runs, especially in the elegantly embellished phrases of the dreamy slow movement. (NYT, Oct. 8, 2008).
On Saturday, October 11, Rafał Blechacz played the concerto as beautifully and responsive as Tuesday.
His precise, strong, elegant and delicate execution resounded even better,
mainly because the New York Philharmonic orchestra and the conductor, Marin Alsop adapted themselves better to the style of the soloist with some degree of amazement of their discovery.
This was a process already initiated and tried on Tuesday – recognizing that the interpretation of the Polish virtuoso is precisely what this Chopin concerto is supposed to be played. Obviously this is the best possible way and there is no other way.
You can probably say that the performance on Saturday was the climax of this belief. Good orchestra and a conductor, worthy of the excellent reputation of their work.
Roman Frackowski, USA, 16 October 2008
----------