Onet.pl (Poland) has made available Rafał Blechacz's video (excerpt) playing Mozart sonata k311 2nd movement and Beethoven sonata No.2 Scherzo.
They are shot for the promo video of Deutsche Grammophon.
Mozart sonata k 311 2nd movement
Beethoven sonata op2 No.2 Scherzo
The same video from YouTube
Beethoven Scherzo is available also from this German site: myclassiworld.com
On the same page, you will find links to DG promo video, Chopin Preludes op28 No.14 and No.15 as well as DG "making" video.
And
this Video is a full-fledged version and goes into details that are not included in the DG Promo Video.
←interesting!!
Mozart sonata's 2nd movement is really touching and calming.
In his linernotes of the new CD "sonatas", Blehcacz writes as follows;
I feel that the middle movement is often the "heart" of a work.
It is the place where the composer, as well as the performer, takes the opportunity to reveal in sound everything lurking in the deepest reaches of his soul.
He is free to articulate everything while still leaving it nameless.
Watching the video, I felt he is really doing it.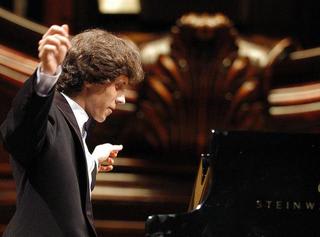 On Oct.5, Canadian Radio station
CBC Radio 2
will broadcast Rafał Blechacz' recital that the pianist gave on May 4 this year at Chan Centre of University of BC, Vancouver, Canada.
Sunday Oct.5 at 13:00 (local time).
Please click "Listen Live" and a media player window will open, then click your time zone.
The media player window has four time zones.
By clicking the later time zone, you can listen to the program that has already finished in your time zone.
Mozart sonata k311
Debussy Estampes
Szymanowski Variations
Chopin Preludes op28
I had the luck to attend this recital.
Amazing concert!
A storm of applause and shouts of admiration are still vivid in my heart.
----------
About the
Polish radio program
on Sept.28, where three critics had conversation about Rafał Blechacz's new CD after listening to the recorded phone-based interview with Blechacz about his thoughts on the CD,
there was an interesting moment.
(I do not understand Polsh, but this was told by my Polish friend Dana.)
One critic says; "Schiff plays Beethoven's sonata more in Beethoven style than Rafał,
wheras Rafał, trying to emphasize the fact that Beethoven dedicated his sonata to Haydon, plays it in Haydn like style."
"If Haydn could hear it now, he would be very satisfied and both Haydn and
Beethoven would praise ....(three critics shout in tutti)
...Rafał Blechacz!."