BBC site iPlayer has made available the program of BBC Radio3 on Sept.30.
You can hear parts of Rafał Blechacz Recital at Salzburg Festival on Aug.15
(Chopin Piano Sonata No.3 and the second encore: Chopin Waltz op64-2)
following the concert by the City of Birmingham Symphony Orchestra,
conducted by new Music Director Andris Nelsons earlier Sept.
BBC site is here.
Please click "Listen" and a new window will open to start the program.
Blechacz's performance starts at about 1:45 of the time scale.
The service is available for a week.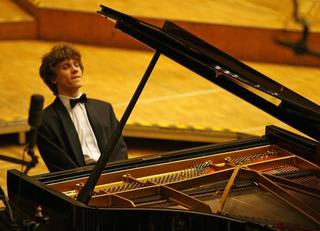 About Blechacz's new CD sonatas, I obtained three versions: Japanese, U.S. and European (international) editions.
I was surprised that all the editions except for the Japanese edition contain the note written by Blechacz.
I strongly believe that the Japanese edition also should have had the note written by the artist himself; Japanese fans deserve it.
It is a huge difference...