Gazeta.pl Bydgoszcz as of Oct.10 reports that Katarzyna Popowa-Zydroń,
pianist, lecturer at the Academy of Music in Bydgoszcz, Rafał Blechacz teacher,
was selected as one of the three important people for the city this year
and thier autographs plates will be placed in the city center alongside with the existing five honored people's including Blechacz.
The new autographs will be revealed on Dec. 6 this year, the day of Saint Nicholas.
Gazeta.pl Bydgoszcz story (English: machine-translated)
Original Polish story (Polish)
Katarzyna Popowa-Zydroń will be one of the jurors of 2010 Chopin Piano Competition,
according to "Chopin"(July, 2008), a Japanese music monthly magazine.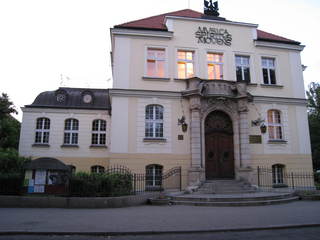 Academy of Music in Bydgoszcz Blechacz graduated from in 2007
The following is what Blechacz remarked in liner notes of his first DG recording "Preludes".
"My professor opened the gates of art to me, including the vital importance of pianistic tone colour
when she introduced me to Debussy.
This helped prepare me for Chopin.
I began to study his music under her tutelage and worked up my competition programme with her.
Although the Chopin Competition is something sacred to us Poles,
my teacher and I treated it as just one more stage in my development.
There are many other competitions after which one could also begin a concert career.
Mme Popowa-Zydroń had always stressed this fact, adding:
"You could lose in every competition, but it is most important for you not to lose your love of music."
Blechacz's autograph in Bydgoszcz