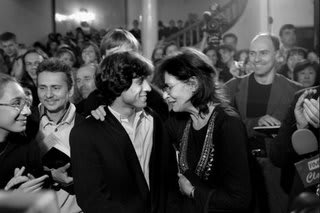 Three years ago on Oct.22, Rafał Blechacz won the 2005 Chopin Competition in Warsaw.
On this commemorative day, let me share a documentary of the competition of that year titled,
"Poland, Chopin's Heart".
(produced by PBS, US public TV, May 2006)
Probably there are many who have already seen it;
it popped up in my mind, however, when I read
a recent e-mail of Blechacz's New York debut
,
especially with the description:
"The public was nailed to the chairs, stunned with awe and admiration".
One of Japanese fans of Rafał Blechacz e-mailed me after reading the posting, saying,
"I was able to see a vivid image of how Rafał was playing on the NY stage and how people reacted".
She really loves Rafał's piano and appreciates the contributor for allowing the visualization.
(Thank you very much Mr.Roman Frackowski.)
The documentary is narrated by Marian Marzynski, a filmmaker.
In Oct. 2005, he returns to his native country Poland, observes the town, contestants and progress of the competition bearing existence of Chopin in his mind.
The documentary is not about Blechacz and Blechacz doesn't appear until the last few minutes
and still you will discern how distinguished his execution is.
"It's all about inspiration", the narrator says when Blechacz starts playing.
"Suddenly, the entire music hall is inspired.
His concerto in E-minor wins the hearts of the public".
The faces of the public tell everything.
I suppose the same may have happened in NY.
Please click "Watch Video" and a new window will open to start the program.
If it doesn't start, please click on QUICKTIME or REAL.
Link to the video.
("Kampai" is Japanese word when proposing a toast.)