The entire evening at Avery Fisher Hall of Oct. 11, 2008 with NYP,
including Rafał Blechacz playing Piano Concerto No. 2 by Chopin,
is to be aired on the public radio stations throughout America on the week of October20th, 2008.
Consult your local station programming.
The following stations already put it in their schedules:(please be careful of local times.)
WFMT Chicago, Thursday, October 23, 8:00P
WWFM Mercer County Comm. College, New Jersey, Wednesday, October 22, 8:00P
In addition:
WFMT Chicago, Sunday, October 19, 2008, 8:00P airs Mozart's Sonata in D
played by Rafał Blechacz during the Spring 2008 International Keyboard
Music Festival in Kalamazoo, Mich. (1st item in the program)
----------
↑
The information was sent to me by Mr. Roman Frackowski, Princeton, New Jersey, USA,
who deeply loves Blechacz's piano
and attended Rafał Blechacz's North America debut recital in Michigan in April and NY debut concerts in October.
His impression of the Oct.11 concert was fed to this site.
here
I sincerely appreciate his heartwarming support.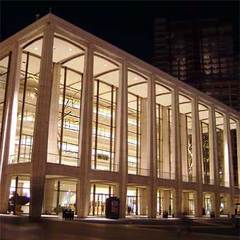 Avery Fisher Hall, Lincoln Center, NY
Program page of Michigan recital on April 27
Photos during the Michigan recital.
Please scroll down to the bottom to see Blechacz's photos
On-line webcast schedule of these concerts is here.
--------
It's nothing to do with the news, but the program of Michigan has reminded me of this.
When I first found the Michigan recital program on the net about a year ago, the program was:
Mozart Sonata No. 1
Chopin Etudes, Op. 35, Appasionata
Schubert Fantasie
Shostakovich Concerto
Szymanowski Songs
It caused a lot of ????, so I e-mailed an inquiry to the secretariat, saying
that "the fact that it includes Shostakovich and Schubert has caused a stir in the community of Blechacz's fans in Japan".
They immediately sent me a return-mail which said;
"Thank you for bringing this program error to our attention.
It remained from testing and should have been replaced with his "real" program…
…Please accept our apologies for any inconvenience (or "stir") this has caused.
We are glad to know we have people learning about The Gilmore Festival in Japan".
Actually, we, Japanese fans were wondering (or expecting rather) how it is if Blechacz really plays Shostakovich..