Andrew Clements gives a favorable review on "Guardian" site to Chopin piano concerto E minor
that Rafał Blechacz played with The Philharmonia Orchestra conducted by Charles Dutoit on Nov. 11, 2009
at Royal Festival Hall, London.
"...Blechacz's approach was more supple, and stayed poised and focused even in the heat of the first movement's development.
There is nothing contrived about his playing;
he seems utterly instinctive, with a wonderfully natural sense of rubato through the long-spun phrases of the slow movement,
and exuberance kept perfectly in check in the finale...."
Please read the full text of the review.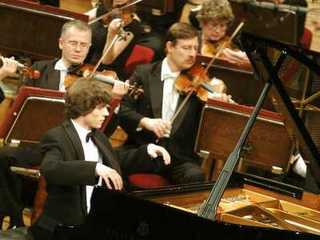 ---------
Message from A.K., a member of Rafał Blechacz fan club in Japan.
He has been one of the warmhearted supporters of Rafał since 2003 Hamamatsu competition.
"For the past few months,I have been occupied by my job and had no time to spend for music.
But one day I was able to listen to Rafał's Chopin concerto F minor in NY and it healed me through to the bone and heart.
I strongly believe that his performance was fulfilling to the discerning American audience.
I sincerely hope that Rafał will perform well again in Barcelona".