Rafał Blechacz's
recital at Salzburg Festival
on Aug.15, 2008 will be broadcast
by Polskie Radio (Poland Radio) dwójka (Program2)
at
15:05 (Poland local time) on Nov. 11.
Polskie Radio program site is here.
Please click on "Słuchaj w internecie" (hearing via Internet) on the left side,
and the "dwójka (Program2)" will start the broadcast.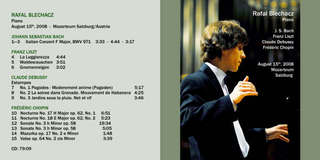 Dziękuję bardzo and thanks to Dana for the information,
(To Japanese audience)
ラファウ・ブレハッチのザルツブルク音楽祭でのリサイタルが、ポーランドラジオで聴けます。
11月11日、午後23時05分(日本時間)より。
上記リンクをクリックし、画面左、上から3番目の"Słuchaj w internecie" をクリックするとそのまま聴けます。
On the same day, on Nov.11, Blechacz will perform Chopin concerto No.1 with London Philharmonia Orchestra
conducted by Charles Dutoit at Royal Festival Hall, London.
Please see London Philharmonia Orchestra program site.
(The program is quite attractive!)
In London, Blechacz will hold an evening recital at Wigmore Hall on April 22, 2009, according to
Guardian.
He made Wigmore debut at lunch time in April, 2007.