Audio file titled "Człowiek słuchu" :Man of ear (hearing) (Polish)
From a reportage broadcast in April, 2006.
Please click on "Człowiek słuchu" to hear the program.
Voices of Rafał Blechacz, his mother, his teachers, etc... can be heard.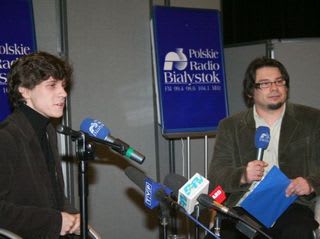 ↑This photo is from a different program.
On Jan.18, 2007, Blechacz gave a news conference before touring in Poland starting the next day.
You can read
an excerpt from the press conference in English.
Both the audio file and the picture have come from Dana. Dziękuję bardzo♪Arigatoh.