Liliane Weinstadt is an artists management agency for Belgium and Luxemburg.
The web site of this agency provides artists' infomation including reviews.
Reviews on Rafal Blechacz on the site are available here.
You can read reviews on his recordings/performances by vaious media from around the world.
Let me describe the first two reviews from the site about Blechacz's latest CD "sonatas".
from www.klara.be (Belgium, in Dutch)
The program is Viennese Classic this time, with sonatas of the three great masters: Haydn, Beethoven and Mozart.
Blechacz plays the often quite solid late sonata by Haydn in a bright and playful manner, almost skittish.
And what a refined touch, what a beautiful, slim and yet full piano tone you hear here.
In Beethoven's 2nd sonata, the good humor and joy dominate the performance.
Blechacz gives the scherzo a lightness and, in the trio, even a little robust angularness.
The Mozart sonata KV 311, with a remarkably quick opening part,is full of grace and virtuosity,
a virtuosity that always speaks freely the musical language.
by Bart Tijskens
from www.klassik.com (German)
Each phrase an experience - Rafal Blechacz plays piano sonatas: Haydn - Beethoven - Mozart
... Haydn (Hob XVI: 52) E-flat Major Sonata: ... a picture of sound with unheard clarifications and purity, a range of velvety to powerfully shinning colors and a precise articulation of absolutely rare value.
Also in Beethoven's A Major Sonata op 2 / 2, his performance infuses an incredible energy from beginning to end; it remains ominpresent in both lyrical and dramatic passages.
Dynamics and agogics starting with astounding intelligence, mated with exceptionally cultivated attack let each phrase turn into an experience of immense intensity and exalted beauty
Mozart's concluding D-Dur-Sonate KV311 is also a musical and creative climax seamlessly to the next.
Runs turn into glistening pearl chains in the first and final movements here, always transparent and balanced out to complete an impressive addition to the sonic puzzle.
The andante is, with all its inherent emotional warmth, he added his 'con espressione ' in all respects right.
One simple conclusion is this: one must have heard this CD easily, but more importantly, it is - at least from my perspective - without if and but, the best of breed superlative.
by Thomas Gehrig
----------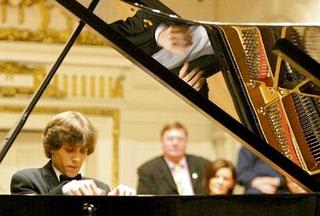 Talking about Klara, Klara-Muziekprijzen 2008 (music prize) will be selected on Nov. 8.
Blehcacz has been selected as one of the nominees for his CD "Chopin Preludes".
Klara site is here (Dutch).
English of the site (machine translated).