Rafał Blechacz this week♪
Tue 11 Nov 2008, 7:30pm
Chopin piano concerto No.1 with London Philharmonia Orchestra
concucted by Charles Dutoit.
@Royal Festival Hall, London
Program site is here.
Nov.14, 21:30
Nov.15, 19:00
Nov.16, 11:00
Saint-Saëns' Piano Concerto no. 2 with Orquestra Simfónica de Barcelona i Nacional de Catalunya (OBC)
conducted by Víctor Pablo Pérez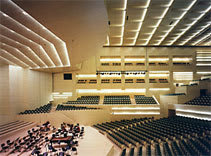 @ L'auditori de Barcelona, Sala 1
Program page is here.
I'm personally interested in OBC, because the current Music Advisor is Eiji Oue, a Japanese conductor whom I respect.
Eiji Oue directed the 1st Pacific Music Festival orchestra in 1990 on behalf of Leonard Bernstein
who suffered from the lung cancer and passed away soon after the festival.
Eiji Oue's sunny, open atmosphere suits very well with Barcelona.
--------
Víctor Pablo Pérez (conductor)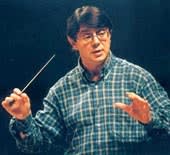 Born in Burgos. He studied at the Royal Conservatory of Music in Madrid and at the Hochschule fuer Musik in Munich, as well as in various centers in Italy and Austria.
He is considered one of the best orchestra conductors of the Spanish musical scene.
Since 1986, artistic director of the Tenerife Symphony Orchestra,
since 1993, chief conductor of the Symphony Orchestra of Galicia.
Also conducted orchestras such as the Philharmonia of London, the Royal Philharmonic Orchestra, the Dresden and Munich Philharmonic, the Orchestra of Radio in Frankfurt, Jerusalem Symphony, Accademia Nazionale di Santa Cecilia in Rome, among others.
Recently embarked on an intense recording activity for works by Shostakovich, Mozart, Prokofiev, Dvorák, Falla, Albéniz or E. Halffter, among others.
Also launched a pioneering work in the recovery of the works of Catalan composer Roberto Gerhard,
conducting the first complete recording of his symphonies.
In January 1995, made a tour of several cities in Germany and Austria in which it was presented with the Symphonic Orchestra of Galicia.
In 2001 participated in the Religious Music Week Basin, with the Symphony Orchestra of Galicia and the Choir of the Community of Madrid, with works by Mozart and Cruz de Castro.
↑ Source article of the conductor's bio is here (Spanish)
Sagrada Familia (Expiatory Temple of Holy Family)
Parc Güell (Guell Park)