The latest edition of the monthly bulletin of Fukuoka Symphony Hall (members' journal) has a column
that shows Rafał Blechacz's remarks on Beethoven piano concerto No.4.
Fukuoka is a big city located in western Japan.
He will perform this concerto with Berlin Radio Symphony Orchestra, directed by Marek Janowski
on Feb.6, 2009.
On line version of the intrview (Japanese)(日本語) slightly different from the printed version.
Asked what impression he has of Beethoven piano concerto No.4, Blechacz says:
"It is one of my favorite music.
Among other things, the atmosphere that the sound of the second movement creates reminds me of story of Orpheus, a hero of Greek myths,
who dared to rescue Eurydice from Hades: the land of the dead.
How the soloist and the orchestra sound together is elaborately calculated to make this music incredibly dramatic,
striking us with the fear on one hand and filling us with spirits of love and mercy on the other.
Overall, the piece offers the color of spring,
with trills, fast passage developments and sounds of high range,
but I think that the dramatic passages are also remarkably fine worthy to be admired.
I am profoundly impressed by the characteristics presented by this and other pieces by Beethoven".
Then Blechacz appreciates that in 2006, the audience in Fukuoka warmly accepted his performance in his first recital tour in Japan after the Chopin competition.
He says:
"The response from the audience plays an important role for life of each of us, the pianists.
In my life, it is extremely meaningful to share the beauty of music with the audience".
He also remarks that the good acoustics of
Fukuoka's hall
for its big size has impressed him a lot.
He says he is looking forward to the opportunity to deepen the ties with the audience there,
and hopes that the musical bonds will strengthen thier love of music.
"I'll see you in Fukuoka!"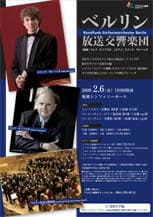 Leaflet of the concert in Fukuoka, Feb.,2009
-------------------------------------------
Before, I've heard Blechacz said the 2nd movement of piano concerto #4 by Beethoven is very beautiful.
This article, I believe, helped me contemplate further this beautiful movement.
This year, I had several opportunities to experience music first-hand perfomed by distinguished musicians attending thier concerts:
Jansons conducting Royal Concertgebouw Orchestra, Sir Roger Norrington with Stuttgart Orchestra,
Krystian Zimerman with Chung Myung-Whun and.....Rafał Blechacz.
I feel I'm gradually expanding my capacity to love music thanks to direct contacts with such great performances.