Rafał Blechacz will perform Chopin piano concerto E minor with Berlin Radio Symphony Orchestra
directed by Marek Janowski
in Berlin on Dec.20, 2008.
Venue and direction info.
The entire concert will be broadcast by
Deutschlandradio Kultur on Dec.28 at 20:03 (local time).
Please select from Flash, WMP, MP3, etc... under Live-Stream on the right side of the page.
Program commentary page (German)
The news was brought up by Yewon, a Korean fan of Blechacz.
Kamsahamnida
and thank you very much!
Readers are reminded that the planned broadcast program is subject to a sudden change/cancellation.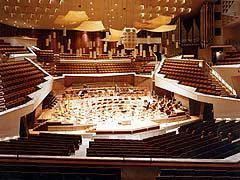 Philharmonie - Großer Saal, Berlin
Blechacz will perfrom Beethoven piano concerto No.4
with the same orchestra under the same maestro in Feb., 2009:
Feb.6 in Fukuoka City, Japan
Feb.9 at
Tokyo Suntory Hall
For Polish readers, reviews have been added in
Blechacz's official web site (Polish)
on concerts in Salzburg, NY and Dortmund.
Dziękuję and thank you Dana for the input.
The original reviews have already been posted on this "Preludia" site in English.