Excerpt from an interview given to Japanese music magazine "MusicaNova", Oct. 2007;
Blechacz talks about how he practiced playing piano
Interviewer: Yudai Majima
-----------------------
Rafał Blechacz was born in Nakło nad Notecią.
In his childhood, his daily delight was to produce sounds with the upright piano at home.
At the age of six, he received a piano lesson from a teacher in the neighborhood for a year.
He was enrolled in a primary school in Nakło and started attending Arthur Rubinstein Music School in Bydgoszcz.
He studied under Jacek Polanski for six years.
"Prof. Polanski was really a great teacher.
First, my lesson began with Bach: Preludes and Fugues.
For classical works, I studied sonatas by Haydn, Mozart and Beethoven.
As I recall, the first concerto I played was A-major of Bach (Bach cembalo concerto No. 4 BWV-1055).
In addition, to improve techniques, I worked on short but effective pieces a lot;
e.g. Mendelssohn 6 Kinderstuche (Children's pieces) op.72,
etudes useful for motion ability of fingers and short pieces of Moszkowski, a Polish composer."
He says that he worked on such piano tutors as Czerny, Clementi and even Hanon.
From what I hear, there are few piano teachers in Germany and other countries who use Hanon recently.
But Blechacz says that he starts day to day practice with Hanon for warm-up even today.
His teacher gave him Chopin Etudes in addition to these tutors.
For example, he was involved in Etudes F-minor of op.25-2, three Nocturnes of op.9 and two Nocturnes of op.32 in relatively earlier age.
"Prof. Polanski used to spend very long time for my lesson.
When I was 12 or 13 years old, he devoted over three hours for me with a break of course in some days.
There were two pianos in the room and he was sitting at one piano and I was at another one and he showed me how to play first.
The teaching process was that it was not until I learned technical aspects of the work that he started to explain about interpretation.
I had relatively bigger hands compared to other students.
At initial stage of a lesson, my teacher made sure fingering looking at the score
and suggested changing fingerwork to be more suitable to me:
e.g. transferring some notes for the right hand to left hand.
He came up with various ways to make it easier.
I was working on more difficult pieces than other students
and my teacher figured out methods not tiring me."
The teacher worked closely with Rafał to create beautiful sounds.
Rafał was taught how to render a "round" sound and how to finish a phrase.
I asked Rafał what is a secret of creating a round sound.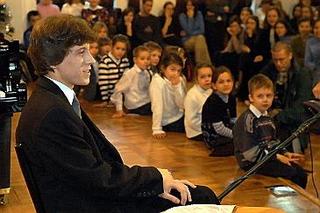 "First you need to have good ears.
And you always quest for good sounds.
After going through the process, the good sound will come out.
You also relax the tension in the body; you move arms as if making circles;
the relaxed (carefree) movement is going to help create a better sound.
My teacher showed a good example of the ideal sound;
I modeled him and made utmost to acquire the excellent sound.
In those days, I was ten years old when I would always think about how I could render a better sound
whether it is forte or piano.
Even a forte must not be noisy or discordant;
I was always concerned about generating a stately sound.
While attending a regular primary school, Rafał Blechacz attended Arthur Rubinstein Music School in Bydgoszcz a few times per week after school.
He received two lessons every week (one lesson lasted for two to three hours)
and academic classes of music history and other music related subjects.
"I was a busy child. Apart from the schools, I practiced piano at home and did homework," smiles Rafał.
His way of talking is decent and honest; he looks straight at me when answering questions.
I believe he has been well disciplined.
At Arthur Rubinstein Music School, he completed the first stage course at the age of 12;
he then stayed in the second stage course (equivalent to lower secondary school) for four years until the age of 16
although the teacher in charge changed when he was a senior.
After that, he was enrolled in Feliks Nowowiejski Music Academy located just across the street
where he studied under Prof. Katarzyna Popowa-Zydroń.
"I spent quite an extended period of time with Prof. Katarzyna Popowa-Zydroń.
I first began with pieces of impressionists, Debussy in particular under her tutelage.
The contact with such works helped me deepen the sense of color and shade that sounds create.
It also was useful to make my repertoire of Chopin larger.
I was also able to learn to diversify sonorous expressions and establish musical interpretations.
I practiced with an upright piano at home in those days but after the Hamamatsu competition I obtained the first grand piano.
It facilitated the study of sounds".
Blechacz won the 2nd prize at the 5th Hamamatsu International Piano Competition in 2003 when no first prize was awarded.
Yamaha had lent him a grand piano three months before the competition
as the musical instruments company had learned that Blechacz was making utmost for the competition.
After the competition, he was able to buy his own grand for the first time.
"The sounds produced by the grand were totally different from the upright,
which delighted me very much rather than hesitating me.
Any kind of grand could have made me happy in those days.
I was overjoyed by the fact that the grand was at my hand at any time and I worked harder since I got it.
I spent almost all the time for practice.
I had only three months to use the borrowed piano and I tried to make the best use of the opportunity.
I always played the piano except for sleeping.
Actually, I wanted to play it through the night
but my parents told me to be considerate of the neighbors and they wanted to sleep at night.
So I gave up the practice at night reluctantly. (laugh)"
When he was young, he was affected by such giant figures as Rubinstein and Paderewski as well as Zimerman,
adored and admired them.
Now he is realizing the dream in his early days to become a pianist playing at concerts all over the world.
"I would like to advance my career as a pianist of broad repertoire
who plays music of not only classical and impressionist composers but contemporary works
rather than playing Chopin's works only".
(The end of the interview)
-------------------------------------------------------
-------------------------------------------------------
Jay Nordlinger
posted
"Salzburg chronicle"
, a comprehensive review on Salzburg Festival of this year on "The New Criterion" site.
It includes the following brief description of Blechacz's recital on Aut.15:
The young Pole was Rafal Blechacz, born in 1985—winner of the Chopin Competition in 2005.
They say he is a wunderkind, and they are not wrong.
Blechacz takes evident delight in playing, and he makes you grin along with him.
He is slim, slight, handsome, boyish—with tousled hair.
He often tucks into a piece like a hungry tiger.
He offered a mixed program, the kind that instrumentalists play when they're first starting out—too bad they discontinue the practice (usually).
He went through Bach, Liszt, Debussy, and Chopin.
He has fabulous fingers, for sure.
But what he sometimes lacks is just what Zimerman has—even specializes in: cantabile.
Will that come in time? Perhaps.
Just about the best playing he did all night was in his final encore—Chopin's Waltz in C-sharp minor.
Young Blechacz reminded you why the piece became popular in the first place.
The whole review of Salzburg chronicle
J. Nordlinger's review on Blechacz's Salzburg recital in detail for "New York Sun" as of Aug. 19
↑Its Japanese translation (password please.)
About the reviewer: Jay Nordlinger