A review on Blechacz's CD "sonatas" by Bart Cyprian
posted on Kwadratuur.be, Belgian music site as of Dec.8, 2008.
The original review is here. (Dutch)
---------------
CD talks
08/12/2008 - Release Year: 2008
'Piano Sonatas'
Joseph Haydn, Ludwig van Beethoven, Wolfgang Amadeus Mozart
In 2005, the young Polish pianist Rafał Blechacz at the age of 21 (←sic) won the prestigious Chopin Competition in Warsaw
for the first time since Krystian Zimmerman thirty years earlier.
The contract with Deutsche Grammophon presented the first CD - how could it be otherwise? - Music of his countryman Chopin.
For this second recording, Blechacz showed the classical repertoire with a piano sonata of each of the three great Viennese classics.
Beethoven's second sonata and Haydn sonata in E major (Hob. XVI: 52) dating from 1796 and 1794
and are therefore not so far apart.
Mozart sonata KV 311 is a five-ten years older. (←sic)
Rafał Blechacz enjoys winning over many quick draws in Haydn's sonata and keeps all parts light and subtle.
In some minor passages, we find sign of exotic 'Ottoman' aspects of 18 century,
a return to a popular style of music in Vienna of Emperor Joseph II.
In the second movement, he sings dreamily, but this is a dream which is typically Haydnese,
theatrical manner is interrupted by a few passages that direct the listener back firmly on the ground.
There is also much humor in the final, where Blechacz understands exactly
how Haydn may go with sudden runs and musical twists against the expectations of the audience.
Yet within a very classical idiom, Blechacz retrieves Beethoven's impulsive nature of the spirit
by proposing a performance in which, with no crude sound,
he demonstrates strong 'forward' thinking in many places in not a hasty manner.
Ostinato bass lines and a tight, not too slow pace of Beethoven's slow middle movement,
which Blechacz emphasizes a few climaxes with just enough drama and feeling by dropping a hard, hammer attack.
The finale gets a lyrical performance which proves how good Blechacz is at
letting his concert grand piano singing,
something also reflected in the bass in the final sizes of the slow part.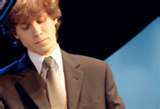 Mozart sonata sounds canty shamelessly from the first note,
as if this sonata is nothing more than toys in Rafał Blechacz's hands.
The sad middle movement is such a simple innocence - what the score says is played without any intrusive rubato -
that you as a listener will just admire Blechacz's musical integrity.
The same honesty is in the final, which speaks of a pure happiness that Mozart only could have been describing.
This is and will remain a delightful musical performance of three classical sonatas: the poker where no others will win.
Moreover, the way he subtly gives to Mozart, Beethoven and Haydn their own character is certainly worth the effort.
Bart Cyprian