Web site of "Politiken" (=Policy), a newspaper/multimedia company in Denmark,
posted a mini-review on Blechacz's CD "sonatas"
as of Dec.10, 2008.
------------
Young, world name publicized through piano work of art.
The young pianist Rafał Blechacz plays three Viennese classics in a semi-sparkling and balanced manner.
By Thomas Michelsen
Some CDs are wonderful and their strengths do not require many words, and here is a super simple example.
Three piano sonatas written by music history's three great Viennese classical composers
played so a semi-sparkling (Haydn in E flat major)
and hot, telling way (Beethoven's opus 2 No. 2 in A major and Mozart's K 311 in D-flat major)
that we should admire the Polish Rafał Blechaz for his second recording for Deutsche Grammophon.
Instead of Monday disease, it clears up again and again (←sorry this part is not clear).
After his over-prominent Chopin drew attention, Blechacz's name has now been firmly established.
Fine, balanced, delicate and extremely well-worked piano art from a new, young world name.
Original review (Danish)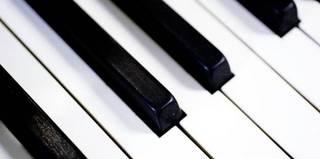 In the spring 2009, Blechacz will play for recitals/concertos in Germany, Poland, France, Holland and Spain.
I've been informed of the recitals schesuled in
Holland
by Jan, a fan of Blechacz there.
Thaaaank you very much, Jan, for such a precious information; some are new info for me.
He attended all the three Rafał's concerts at Amsterdam Concertgebouw
(Chopin E moll in Dec. 06, Recital in Oct.07 and Saint-Saëns in Aug.08);
super-fantastic!
Good news for those who live in Holland and neiboring countries, prawda?
--------------------
Recitals in Holland in March/April
March 23, 2009
The Jurriaanse Zaal, de Doelen, Rotterdam
March 25, 2009
Keizer Karel Podia-- Concertgebouw De Vereeniging, Nijmegen
April 24, 2009
Friesland Bank zaal, de Harmonie, Leeuwarden,
April 25,2009
kleine zaal, De Oosterpoort, Groningen
April 26, 2009
Rabobank Zaal, Eindhoven
-------------------
Program of April 26
Mozart - Sonate in KV570
Chopin - Ballade No.1
Chopin - Vier Mazurka's opus 24
Chopin - Polonaise opus 26
Chopin - Polonaise fantaisie opus 61
For other recitals, the program column just says "Mozart, Szymanowski, Debussy, Chopin".
English is acceptable when calling these theaters.
For the link to each of the concerts, please see Concert schedule page.