(This is the interview Rafał Blechacz gave to a Japanese music magazine in 2004.)
Recently, Rafał Blechacz wears glasses. It suits well with his gentle appearance.
"After the (2003 Hamamatsu) competition, my eyesight has been weakening.."says smiling Rafal.
"You study music scores too intensively?", I asked half jokingly.
"Yes, I think that's probably the case," answers Rafał in earnest.
He has just become 19 years old last month.
Now I do not have the impression of the slender boy that I felt at the time he was awarded the 2nd prize
in the 5th Hamamatsu Piano Competition last year.
But he remains the same in that he is always honest and calm.
The personality helped him draw popularity from the audiences of a wide range of age group
in the recitals he has had this month commemorating the award at Hamamatsu
where he demonstrated scrupulous and fresh performances.
What was the biggest change after the Hamamatsu Competition?
"First and foremost, now I have my grand piano".
Grown up by the parents who are not musician, he did not have a grand at home so far.
"But now, the grand became necessary for my life as a pianist..
If playing the upright piano is something like walking on the ground,
playing the grand is as if I were flying in the sky", smiles Rafal.
When talking about piano, he looks really happy.
"The new grand piano expanded my potential.
I resumed study of Debussy before the Japan tour,
and I found that there are more things that I can do".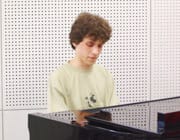 Blechacz in Hamamatsu (2004)
He will soon start studies full time at Feliks Nowowiejski Music Academy in Bydgoszcz.
He will learn more subjects such as music history and musical grammar as well as piano.
He will have more opportunities for playing at recitals, so he should expand repertoire further.
"Right now, I am truly interested in the Impressionists.
Debussy and Ravel, although I do not have enough time to practice Ravel seriously.
I also love the Baropue, such as J.S.Bach's "Preludes and Fugues" and "Italian Concerto".
And, of course, Chopin.
Whereas almost all the pianists in the world play Chopin,
for me, Chopin is the special composer that I value most."
He says he has been making progress in preparation for the Chopin Competition next year.
Also, it was decided that his first recording will be released prior to the competition.
The recording will take place in December, 2004,
and it will be released in February 2005 from ACCORD Label of Poland.
What kind of music will be released?
He says Debussy and Liszt are included.
"Debussy's music is the one for pianists. I am required to describe expressiveness of the piano.
I have been working on Liszt, and ah, it is really virtuoso!", smiles Rafał.
When talking about music, Rafał becomes a little bit more talkative than talking of other matters.
"I would like to grow by experienceing good performance".
Asked if he knows why he is so popular among audience,
he tilted his head to one side and said self-consciously,
"Ah, I have no idea".
The shy smile lets me understand what kind of person he is
and the impression is very different from the calm attitude when he was talking about music.
But I believe it is his personality.
Blechacz signs at Hamamatsu Hall (2004)