The following segment has been offered by Marine, a young French fan of Rafał Blechacz
who translated an original French article written by another French fan in August last year into English.
Marine lives in Saint-Pierre et Miquelon, French islands in the North Atlantic Ocean.
The islands are as close as 25 kilometres (16 mi) from Newfoundland.
I don't know her directly and she asked my friend in US to forward the segment to me.
According to my friend, Marine loves Rafał Blechacz very much
and enthusiastically listens to his music through CDs and webcasts,
as geographically, it is not easy for her to attend a live concert of Blechacz.
She is 10 years younger than Blechacz.
I sincerely would like to say thank her and my friend for sharing the beautiful description written by the French fan of Blechacz
and eagerness to try to support their favorite musician.
Merci beaucoup, Marine!!  
-------------------------------------------------------------
On this sunny Sunday and tempered by a pleasent wind, like a caress,
nothing can be chosen in my music library but a recording of an rising star: Rafał Blechacz.
This young Polish pianist, one year my senior, the winner of the 15th Chopin piano competition 2005,
after listening to a few of his published pieces by Chopin and the concerto No.2 live in Berne (Switzerland, Feb.2008),
has become one of my favorite pianists.
He has freshness and simplicity of youth, a solid technique
but not to the point of succumbing to the temptation of many young (and old) musicians
to easily impress public by technical prowess,
and he has a fine musical intuition, combined with a great joy of playing.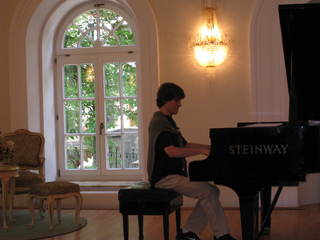 I hope that the routine of concerts will never annihilate this natural pleasure in him to play,
to see in each performance in public a festive event.
A lot of great musicians have lost this happiness to be able to devote themselves to the musical work that they played
with the sentiment that there is nothing more important at the moment than this music,
that you were born only for this moment, the supreme beauty in your life.
Admire the beauty of his gesture !
His finger are the dancer who unite themselves for an aerian and magical ballet.
A pleasure to look at him, almost as much to listen to him.
Original article is here. (French)
Source: lavinie.blogspot.com
Blechacz's recital at Tokyo Opera City Hall on Feb. 14,
tickets for general public have been almost sold out! (as of Jan.16)
I was informed by my friend, who wants to attend the recital but cannot obtain the ticket.
I examined and found that a few tickets are still available for the members of organizer (Japan Arts),
but only a few...(luckily enough, my friends were able to get it.)

↑ It seems all the tickets for Opera City have been sold out. (as of Jan. 17)