Japanese
An excerpt of the interview with Prof. Katarzyna Popowa-Zydroń,
the teacher of Rafał Blechacz at Feliks Nowowiejski Music Academy, Bydgoszcz,
published on Polish paper "Gazeta Wyborcza" dated 19th of November, 2005.
This English version has been prepared and sent to me by Dana, a Polish fan of Blechacz.
The article is quite insightful and touching and I would appreciate her for the hard work.
----------------------------------------------------------------
Don't sneeze at Blechacz
Rafał always came with his father. He was a little, slight boy. 
Now he has very much changed. Today he is a young man.
It's funny, but during the first months he didn't enchant me.
The way he played was way like a good pupil at the secondary school*.
And suddenly!
We had very long lesson over the Nocturne, the one that Rafał pleyed at the Competition.
I became very crazy, stopped him after second and third sounds.
"No, I don't give him up", I thought.
And said, said, said about what are in the notes and between them.
Suddenly I looked at the watch, two hours had passed and we were only in a half of the Nocturne.
I was worried,
"Your father is waiting for you, he wants to take you home and you are certainly tired".
He looked at me, surprised.
"No, I am not tired".
He loves playing. So we continued the lesson.
After a week I asked him for what he can show me now.
No, no yet.
Two weeks later, however, he played in the way that I had to sit down - I was almost crying.
During the two weeks' period, he had thought over all my comments by himself
and added his own feelings, which gave an incredible harvest.
It was a divine work.
(* In Poland, there were three stages of school education at a time Rafał studied.
1 elementary; age 7-15
2 secondary; age 15-19
3 higher education for about 5 years ending with the title "magister"
Prof. Katarzyna Popowa-Zydroń started teaching Rafał when he was 15 years old.)
I prepared a list of the most important things before Chopin Competition.
No staying at a hotel, no journalists, no fame, no interviews.
Full concetration and health.
Rafał and each person in his surroundings cannot catch cold and the grippe.
If somebody in my surroundings sneezed, I went away.
During my competition**, my mother came to Warsaw from sunny Bulgaria and she caught cold and later did I.
I knew that Rafał would win this competition if he wanted it but he didn't think about it.
I had thought of how I should tell him about it - that his determination to win is necessary."
I decided to tell him before the first part of competition to let him know that victory is in his hands.
I said to him, "If you want, you can win this competition".
He was a little amazed. My words impressed him.
He probably feared these thoughts. Maybe he moved them away from himself.
He repeated my words to his father.
"Do you know Prof. said to me that I can win".
I always said to him,
"You never think about victory. This thought is not good because it is a prayer for others to be defeated.
Nobody plays against others.
One ought to give all from oneself;
it isn't important if you are a laureate of competition or perform at a concert for children.
Cannot play Chopin in a diffrent way.
(Interviewer; Why? Does Chopin look at them?)
Yes, and Chopin is especially looking at Rafał and certainly smiling on him.
(**She got the 10th place at 1975 Chopin Competition.)
Rafał is my child....my spiritual child.
After Rafał played the Nocturne so wonderfully like a music from heaven, I said to him,
"I have nothing to tell you and if it often happens, you will have to search another teacher."
I was being afraid; it's a great responsibility to teach such a gifted boy:
allowing him to progress in himself, giving him something, not putting him subordinate to my sensibility,
matching the repertoire with his emotional and intellectual development.
When he ended the secondary school, I suggested to his father changing the teacher,
saying that maybe we could search together the other.
He didn't want it. I sevreal times reminded of it so in the end Rafał's father said to me,
"Let's leave it as it is. We don't want to change the teacher. We want you".
Rafał and I were sitting together once a week for working.
(How long?) I didn't count hours but I payed attention not to exaggerate my involvement in the work.
It should not be pedagogical.
Rafał must know that I love him but I also love my other pupils.
While they - although God didn't give them great talent - love music too and wanted to devote themselves to it.
Also, I knew that I cannot weigh him down with my ambitions, ambition of his victory.
My professor wanted me very much to take up the best place in the Chopin Competition.
I was his first student of this competition. He gave me all his best and it overpowerd me.
The consciousness that I cannot disappoint him all paralyzed me.
Conclusion: I should not give all of myself.
I often asked Rafał;
a) do you want to meet me?
b) or you don't ?
c) it doesn't matter which?
and I told him that any answer would not offend me.
Rafał's answer was;
d) I'll think about that.
One, two kicks
A half year before Chopin Competition, I met with prof. Jasinski (the chaiman of the jury) and asked him for help.
I wanted to benefit from his experience.
Rafał was absent.
Jasinski replyed that he was sure I would do a good job with Rafał and he would not help me.
I felt like an abandoned person with many problems to solve, like the person who is on an ice rink alone.
Probably, I wanted to divide responsibility with other person.
If Rafał didn't fully demonstrate his talent, I would feel very guilty about that.
What didn't I ensure, what did I exaggerate with?
I would like to divide responsibility with Prof. Jasinski.
But he knew very well what he was supposed to do.
It would not be very well for Rafał if multiple persons helped him.
A big mixture of different interpretations would be packed in his head.
Also I had given him whatever I had, making him unique.
(Interviewer: What did you tell him before the exit on stage?)
I kicked his bottom with my knee.***
Once, before the first round of competition, twice, before the second.
When I came to his dressing room before the final stage, he turned and waited a kick
but I turned him back and said very seriously;
"Play beautifully".
"Yes", Rafał replyed.
"You must activate (start) your transmitter of magic.
"Yes".
After the final stage, I talked to myself,
"Wow, Kasiu (her name), you know how to move ahead along this road but now you are in front of another unkown path".
After that, Rafał's mother and I heard the laureates' concert, both crying, at the end of the corridor so that nobody had seen us.
Rafał's mother was crying and I was crying.
(*** Among Polish youth, "kick at bottom" means "for luck".)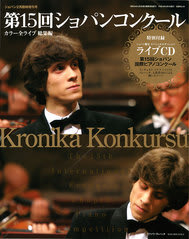 Cover of Special edition of "Chopin",
Japanese magazine, Dec.2005