Wiadomosci.wp.pl quotes PAP news reporting that Rafał Blechacz's recital at Théâtre des Champs-Elysées
in Paris on March 27 was a big success.
Wiadomosci.wp.pl site is here. (Polish)
PAP site (Polish)
(Outline of the article)
Standing ovation was adopted in Paris in the evening of piano recital by Rafał Blechacz,
the winner of the last International Chopin Competition.
After that, crowds of music lovers were waiting for seeing the young Polish artist at the autographic session.
Recognized as one of the greatest talent, the 23-year-old Polish pianist Blechacz presented the recital
at the prestigious concert hall in Paris, Théâtre des Champs-Elysées,
consisting of the works of the classics.
In the first part of the recital, the pianist played works by Bach, Mozart, Szymanowski,
and in the second half, ballad, Mazurkas and Polonaise by Chopin.
After completing the program, the concert pianist encored three times
at the request of the public tightly filling the theater hall.
Then, a long queue for his signature was made set under Blechacz's latest album, which has just appeared in France.
In "sonatas" - so is the name of the latest CD - issued by the prestigious German label Deutsche Grammophon,
tracks consist of Haydn, Beethoven and Mozart.
In the French critic magazine Classica Répertoire, the reviewer praises "sonatas,"
noting that "the young pianist promised to be a worthy successor to Krystian Zimerman.
Rafał Blechacz was the winner in 2005, XV International Piano Competition of Frederic Chopin.
The pianist was also awarded prizes for the best performance of mazurkas, a polonaise, sonatas and concerto.
Blechacz a year later - in the wake of the Polish pianist Zimerman - signed a contract with Deutsche Gramophone.
The debut album that Rafał Blechacz issued in 2007, including Chopin repertoire,
has gathered a very favorable press reviews of world
and in Poland it has become a platinum plate.
By Szymon Łucyk (PAP)
Program page of Théâtre des Champs-Elysées
Le Figaro introduces Blechacz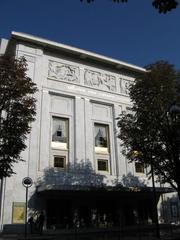 Théâtre des Champs-Elysées
After the ricital on March 27, he will be back here on May 14,
to perform Saint-Saëns:Piano Concerto No.2, op22
with Orchestre National de France
Conductor: Fabien Gabel
Program page of Orchestre National de France
Review on Blechacz's previous recital at Théâtre du Châtelet in Paris on Jan. 27, 2008.
Blechacz's next recital will be at London Wigmore Hall at 19:30 on April 22, 2009.
Wigmore program page.
Please read the review by "Guardian" on Blechacz's Wigmore debut (lunch concert) on April 2, 2007.
This review was referenced in the program book of Blechacz's 2007 Japan tour (May to June, 2007).