Prof. Katarzyna Popowa-Zydroń, Prof. of Feliks Nowowiejski Music Academy, Bydgoszcz
gave an interview to "Musica Nova", March 2009, music magazine during her stay in Japan earlier this year.
She was in Japan as one of the jurors for the 10th
Chopin Competition in ASIA.
In the interview, she expressed her impression about the young contestants from Asian countries.
She says that overall, the contestants' level was very high and she found some of them are talents.
She then describes how difficult it is to perform Chopin's works in both technique and pianistic aspects.
A good Chopinist could play Chopin's work in his later years such as Polonaise-Fantaisie.
It requires Slavic atmosphere and French point of view as well as Polish one.
Chopin's soul resides in Poland whereas his way of thinking is very French.
Chopin is very logical and sophisticates his music.
It is difficult to have both aspects and express diverse feelings in one integrated way.
Prof. advises the piano students to try to play beautifully first,
then the result will follow even in the competition.
If you are distracted to performances of others, you cannot be concentrated on.
She advises those who want to play Chopin beautifully to;
have a balance between healthy heart and mind.
Emotion is mother and intelligence is father to perform good music of Chopin and all the other composers.
Then, the interviewer asked her about Rafał Blechacz.
Q: You taught Rafał Blechacz?
A: I taught him for seven years.
He was 15-year-old secondary school student when I first saw him.
Q: What was your impression when you first hear his performance?
A: He was very shy and didn't talk a lot.
I hardly remember hearing his voice in the first year. (laughing)
It was not until a few years later when he started conversation from him,
saying that he wanted to play Italian concerto by Bach and Suite bergamasque by Debussy.
Before that, he said nothing when assigned a new work and didn't talk about what he wanted to do.
But whenever I gave him advice about the piece he was engaged,
he always absorbed it and corrected everything.
There was no need to repeat the same advice.
He therefore speedily made a steady progress every week.
Then I thought that it is advisable for him to enter the Hamamatsu Competition
as a preparation for the Chopin Competition three years later.
It could be a good opportunity for him to be familiar with the long, stressful process in the competition.
Hamamatsu requires a wide range of music and has produced some excellent pianists in my impression.
There was only two-week period for him to prepare, so I didn't expect him to get awarded.
But after the second round completed, Prof. Piotr Paleczny notified me that Rafal was highly evaluated by everybody.
I then rushed to Japan from Poland to see the final stage.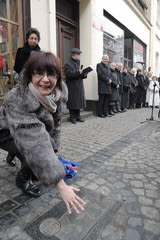 Prof. Katarzyna Popowa-Zydroń, on Dec.6, 2008
@ Bydgoszycz
Q: What drove Rafał Blechacz to participate in the Chopin competition?
A: He desired to join first of all.
I also felt that he performs Chopin very well.
I didn't think that it was too early.
He had engaged in Sonata in the previous year, played Barcarole and the concerto No.1 at the Hamamatsu.
He was able to prepare the entire program in one year and a half.
Practicing Chopin only could make him lose balance in the period running up to the competition,
so I advised him to practice works by Mozart and Debussy, music with closeness to Chopin.
I believe Debussy is best suitable to learn rich sounds.
Rafał deeply loves Debussy.
He says that he performed music by Debussy for the first time under my instruction
and "fell in love" in Debussy at first sight.
I told him to practice Clair de lune and Passepied first.
Three months later, he shyly said,
"I played Menuet and Prelude, too, because they are very beautiful".