Chopin 2010 site has got started.
Chopin 2010 main page (Polish).
Chopin 2010 main page (English).
THE BIRTHDAY DECADE (excerpt from the site)
"The Birthday Decade is going to be the first of the three dominating events of the Chopin Year.
Organised by the Fryderyk Chopin Institute,
it is going to feature a series of concerts between 21 February and 1 March 2010,
that is encompassing the two hypothetical dates of the composer's birth.
Celebrating the 200th anniversary of the genius composer's birth,
Warsaw will be hosting a splendid array of the world's pianism,
with performances by Martha Argerich, Piotr Anderszewski,
Leif Ove Andsnes, Rafał Blechacz,
who will open the birthday celebrations,
Daniel Barenboim, Dang Thai Son, Evgeny Kissin, Garrick Ohlsson, Janusz Olejniczak,
Murray Perahia, Ivo Pogorelich and Yundi Li.
The artists will be accompanied by Frans Brüggen's Orchestra of the Eighteenth Century
and the Warsaw Philharmonic Orchestra conducted by Antoni Wit.
A detailed calendar of concerts will soon be available at the portal".
Rafał Blechacz opens birthday celebrations on
Feb. 22, 2010
Symphonic concert with Orkiestra Symfoniczna Filharmonii Narodowej
and Antoni Wit
@ Sala Koncertowa Filharmonii Narodowej
(National Philharmonic Concert Hall), Warsaw
here
And a recital is scheduled
on April 27, 2010 in Belgium.
@ Palais des Beaux-Arts/Bozar
Brussels, Belgium
Fryderyk Chopin
Ballada No.3 op. 47
Scherzo op. 20
Mazurkas op. 50
Polonaise-Fantaisie op. 61
Palais des Beaux-Arts/Bozar, Brussels
June 14, 2010
Recital @ Salle Pleyel, Paris
J.S.Bach Partita No. 1 BWV 825
Mozart Sonate K 570
Claude Debussy "Pour le piano"
Frédéric Chopin
Ballade No.3 op. 47
Nocturnes op. 63(←op. 62?)
Mazurkas op. 17
Polonaise op. 53
here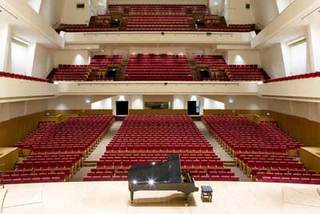 The Salle Pleyel, Paris
I'm expecting more concert schedules to be posted going forward.
-----------------------------------------------------------------
Review on Blechacz's recital on May 8, 2008 @ Oakmont, California, US,
posted on the site of Classical Sonoma, the North Bay.
I don't know why I couldn't find it up till today....
Please read other reviews on Blechacz's debut recitals in North America (April - May, 2008).
He held five recitals in April and May, 2008 in Canada and US.