europecentrale.asso.web.com
introduces Rafał Blechacz's recital
at Théâtre des Champs-Elysées on March 27, 2009.
Original site (French)
program:
Bach : Italian Concerto BWV 971
Mozart : Sonata K. 570
Szymanowski : Variations op. 3
Chopin : Ballade op. 47 n° 3
Mazurkas opus 17
Polonaise Fantaisie op. 61
The new Zimerman: Poland waited for thirty years before Rafał Blechacz in 2005,
the crown of the Chopin Competition was awarded to a Polish since Zimerman.
He emulates Zimerman in brilliance and joined the same record company,
which today released his second album, after Chopin, the obvious selection, the great classics.
The young pianist has inherited from his illustrious predecessor
this inimitable voice, done with elegance, simplicity and poetry.
The voice that is far from being swank and sentimental;
it is the voice of the heart, no doubt.
Virginia Schaefer-Kasriel © Jeanine Roze Production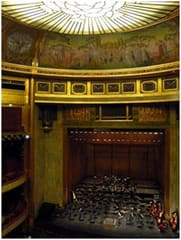 ------------------------------------------------------------
Pianobleu.com
maintains a beautiful site of Rafał Blechacz.
Page of Blechacz's CD "sonatas" (French)
Rafał Blechacz
Joseph Haydn (1732-1809)
Piano Sonata in E flat major, Hob.XV: 52
Ludwig Van Beethoven (1770-1827)
Piano Sonata in Amajor OP.2 No. 2
Wolfgang Amadeus Mozart (1756-1791)
Piano Sonata in D major, K.311
As explained in English, Polish pianist Rafał Blechacz introduces his EPK disc (see video below),
it was natural for the winner of the Chopin competition that he first recorded a disc of the composer.
In this new album, he wanted to interpret different composers around the theme "Sonatas".
He was able to meet three composers; Mozart, who was for his first public concert at age of six years,
Haydn, he often played in competition
and Beethoven, whose sonata he chose was composed at the same time as that of Haydn,
and he also performed it at the International Rubinstein piano competition where he won the second prize.
Certainly it presents a program about composers of a different style and a different period from that of Chopin,
and yet Blechacz notes that the middle movement is often the "heart" of a work,
"It is the place where the composer, as well as the performer, takes the opportunity to reveal in sound everything lurking in the deepest reaches of his soul."
He asks in the booklet accompanying the disc:
" Does this mean that we are dealing here with Romantic works?
I don't think so, yet it would be wrong to suppose that Classical composers felt a different kind of joy, sadness, hope or despair than the Romantics.
The fundamental nature of emotion is always the same; only its expression changes.
When playing works from the Baroque, Classical, Romantic or even impressionist repertoire, I often feel that these composers always comvey the same substance, feeling and emotions, even though the style and approach of each is unique."
Emotions that the young pianist shares with a huge talent in a colorful way to bring out the sounds of strings or wind instruments
and he confided:
"While working on Haydn, Mozart or Beethoven, I've often attempted mentally to "orchestrate" the work, or part of it, whenever I had doubts as to articulation, pedalling or timbre.
After performing this "instrumentation in the mind", those doubts about interpretation would disappear."
... and there is no doubt with regard to the talent of Blechacz that this new volume confirms:
it is sufficient for example to hear him interpret andantino con expressione of the Mozart Sonata K.311,
or watch the video below, the scherzo of the Sonata No. 2 by Beethoven, to appreciate his playing very personal language constantly renewing great expressiveness.
To listen to samples and / or purchase this disc ..... click here or click here
Page of Preludes of the same site (French)
Bio of Blechacz of the same page (French)
For those who have not yet seen this interview with French media (Video in English)
Interview with VirginMega in October, 2007.
He mainly talks about Chopin and Preludes.