"Meesterpianisten 2009 -2010" (Masterpianists series) of the Netherlands
contains reviews
on Blechacz's first appearance in the series in 2007.
On page 21 of the brochure, several very good reviews
from newpapers of his first performence in the series are mentioned.
The most are already known.
It also touches upon Blechacz's planned performance of Chopin's concertos with the RCO.
It also says,
"Meanwhile Blechacz is well known in all parts of the world.
His honest, golden cristal-clear performance exhibits a tremendous noblesse and musical maturity.
On page 32, you will find a program of his recital
at Amsterdam Concertgebouw on May 9, 2010.
I'm pleased to see Blechacz's name with such "master pianists" as Sokolov and Pollini
on the same page.
Program
J.S.Bach Partita nr.2 inc kl.t., BWV 826
W.A.Mozart sonata kv570
C.Debussy Pour le piano
F.Chopin
Ballade No.3,
Scherzo No.1,
3 Mazurkas, 2 Polonaises
Meesterpianisten 2008 -2009" (Masterpianists)
is here.
(Blechacz in NOT here.
But you will find the link to the above-mentioned brochure for 2009-2010.)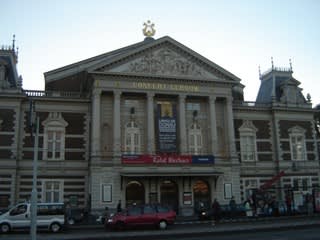 ↑ courtesy Dana,
on Blechacz's debut at Meesterpianisten 2007
Some photos
←from public domain
The info was provided by Jan from the Netherlands.
Thank you very much as always!!