Review on Blechacz's recital at Tokyo Opera City Hall on Feb. 14
By Ms. Yukiko Hagiya
Published by Ongaku-no-tomo (music friend), music monthly, April issue, 2009
He deepens interpretations every time
Rafał Blechacz grew more pristine and brilliant.
Four years have passed since he won the Chopin Competition.
How amazing it is that he has kept polishing his piano performance throughout these years
without succumbing to a lot of temptations or overconfidence!
The first item on the agenda was Mozart sonata B flat major K570.
How cleanly it sounds from the first bars!
He swept away unnecessary emotional attachment but played it with all his heart.
He was getting near to the essence of Mozart by serenely playing the adagio;
the finale was played with such a graceful and light touch
that the texture of his fingers was felt transparent.
Next was Beethoven sonata No.2.
The elegant interpretation was the Blechacz-way.
All the sounds he produced including the softest pianississimos that appear at every turn
carried very well.
After the intermission were the compositions from his country.
He selected 4 Mazurkas op-17 and Heroic Polonaise from Chopin.
The Mazurkas were superb!
He expressed the liveliness of the mazurka by the first piece.
He then contrasted the melancholic kujawiak with mazur skillfully in the second piece.
In the third, he showed the excellent handling of enharmonic modulations.
In the fourth, I was able to enjoy various elements of the mazurka to the full.
In playing the Heroic Polonaise, he didn't get involved in revealing his techniques
but paid utmost care to the metronomic sense peculiar to the polonaise.
The final piece was Variations by Szymanowski.
He brought about ethnic sentiments expressively
and made us know that this is one of the sublime masterpieces.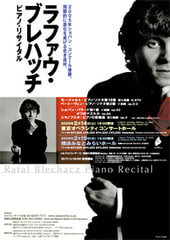 Leaflet of recital @ Tokyo Opera City Hall
------------------------------------------------------------------------
In Japan, review on classical music doesn't appear on the Internet
and is published only through the printed media.
The two reviews that I posted on Blechacz's Japan tour were published just today on March 18.