Rafał Blechacz made a London Wigmore evening debut on April 22.
The following news is offered by a fan of Blechacz.
Rafał Blechacz won a big enthusiasm and admiration of the audience at Wigmore Hall,
London, last night, April 22, 2009.
He played a recital (Mozart, Szymanowski, Chopin).
There was no end to a thunderous ovation and shoutings "Bravo! Bravo!".
He played two encores.
The house for his recital was sold out weeks before.
No other concert at Wigmore Hall in April 2009 has been sold out.
Afterwards Blechacz signed CDs and programs to huge crowd of his fans
and gave an interview to the London daily "Dziennik"
that comes out in Polish and serves the Polish community in Britain.
He plays a recital on Friday in Leeuwarden, the Netherlands, in Groningen on Saturday,
and in Eindhoven on Sunday.
Thank you Roman for the good news!
elondyn.co.uk posted an article reporting a huge success for Blechacz and happiness for the audience there.
elondy.co.uk (Polish)
Rafał Blechacz enthusiastically accepted in London
Repeated long ovations on Wednesday 22 April in London at the recital by Rafał Blechacz,
the winner of the last International Chopin Competition.
Rafał Blechacz, the winner XV International Frederic Chopin Piano Competition in 2005,
is one of the most talented pianists of the younger generation.
23-year-old Blechacz presented in the prestigious concert hall in London Wigmore Hall
recital of works composed of the greatest composers.
The audience filling the hall listened in the first part to the works of Bach, Mozart, Szymanowski,
and in the second ballad, nocturnes, Polonaise and Mazurka by Chopin.
Blechacz fascinating implementation had a huge impression on British audiences resulting in two encores.
After the completion of performance, the pianist signed his CDs for the long line of people,
Preludes by Chopin and the latest "sonatas" with works Haydn, Beethoven and Mozart,
released by Deutsche Grammophon.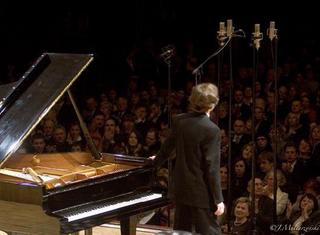 (Program)
Bach Italian Concerto BWV 971
Mozart Piano Sonata K. 570
Szymanowski Variations Op. 3
Chopin Ballade No. 3 Op. 47;
Nocturne Op. 62
4 Mazurkas Op. 17;
Polonaise in Op. 53 'Heroic'
After London, Blechacz will perform in the Netherlands, Spain and Paris.
de Harmonie, Leeuwarden, the Nehterlands, on April 24
program info
←You can see the video "omnibus edition of Chopin Competition."
Venue info
and here
De Oosterpoort, Groningen, the Netherlands, on April 25
here
April 26, 2009
Rabobank Zaal, Eindhoven, the Netherlands
here
And here.
The program site of Eindhoven refers to parts of review on Blechacz's Meesterpianisten (master pianist) debut recital at Amsterdam Concertgebouw on Oct. 7, 2007.
"Only on rare occasions can one hear such mature and beautiful play presented by a 22-year-old:
the world of pianists has a new coryphaeus, and he is called Rafał Blechacz!"
(Christo Lelie, Trouw)
"A simple prelude is enough to recognize a real pianist.
For example prelude no 4, a few ordinary chords in the left hand, a timid melody line in the right one,
would not bring difficulty to an amateur.
However, when Blechacz plays, he works out a little wonder.
Every tone seems to be well-balanced just like on the jeweler's scales.
Every second is filled with colourful nuances".
(Eddie Vetter, De Telegraf)
"Blechacz is the piano master."              (NRC Handelsblad)