Rafał Blechacz gave an interview for TVP Kultura (Poland) on March 18,
just before his performing Beethoven concerto No.4 with Antoni Wit in Warsaw on March 19 and 20.
Intrviewer: Jacek Hawryluk
Some points of his remarks that I hope are interesting for Blechacz music lovers are picked up and summarized below.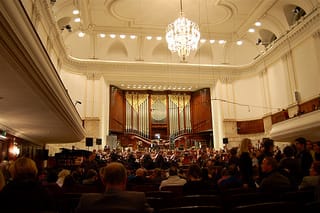 Blechacz and Hawryluk are sitting in Filharmonia Narodowa (Warsaw Philharmonic hall),
looking around and recollecting the 2005 Chopin competition.
JH How is the acoustic of the hall?
RB Every hall is different but the acoustic is indissoluble with interpretation.
Some parameters of a hall forces changes of color, elements of technique, etc…
Also rehearsals are the most important.
These with the public would be the best but it isn't possible.
JH Which hall is your favorite?
RB Filharmonia Narodowa in Warsaw has very good acoustic, quite serious.
Thanks to it I felt very comfortable during Chopin competition.
Concertgebouw has an atmosphere incredibly beautiful
perhaps because of plenty of famous artists who have played here.
JH How do you build your repertoire as the public now see you as an independent artist,
and want to get the best of you?
RB I play works which I know very well.
I don't get tired of them and do let the public listen to them in more convincing way.
JH Does Chopin disturb you?
RB No, thanks to Chopin, I can play in the most important, beautiful halls, festivals around the whole world.
I will always play works by Chopin,
I want it.
(↑ January 2007, not for this interview.)
JH Your career develops very beautifully.
Do you have a freedom of choice of repertoire with Deutsche Grammophon?
RB Yes, I have.
When I talk about my projects of CD's in the future, I have the decisive voice
but sometimes I make allowances for suggestions from DG.
They know very well CD's market in Germany, Austria, France, better than I.
I've not yet known what liking of music do the public have.
But I have a sense that the decisive voice belongs to me.
JH. If you want to record CD with Szymanowski's works would they agree?
RB I think now they would agree. (He suggests ideas of projects related to Szymanowski.)
I must emphasize that freedom of art, which is so important in my life,
is given and approved to me by DG.
At the beginning of my career, I wasn't exactly knowledgeable about how a lot of things outside music function;
the suggestions by Zimerman or Pollini were very important for me.
Now I make a decision, not someone else.
JH Who are the pianists that inspire you besides Zimerman and Pollini?
RB I have many CD's of great pianists in my library.
Sometimes they inspire me sometimes don't.
In general I reach for a music when it convinces my vision of work.
Later I can be inspired by other aspects but the core is my own.
For example, the recordings of Chopin by
Raul Koczalski
were very inspirational for me,
especially his "Etudes" are pure music.
Zimerman, Pollini
of course but also
Mitsuko Uchida
has developed the current of classicals,
especially music by Mozart.
Alfred Brendel
too, he played IV concerto by Beethoven beautifully.
JH How do you work on new works?
RB It depends on the work.
For example IV concerto by Beethoven has been always my favorite among these five concertos.
I have known it. But it's also new.
First I study technical side.
After that I start the process which I would compare to maturation of wine (laughing).
I need time in order to know the work and stay with it for some time.
I must not play it every day; it is kept in my inside and one day the moment comes that all becomes clear.
My "iron rule" is that the work cannot be performed in public until I am sure
that it has been well settled in my fingers and interpretation is proper.
JH You said before that you would like to study humanistic subjects.
RB I've already begun studying philosophy of music at Kopernik (Copernicus) University in Toruń.
It helps me with my interpretations.
I am more conscious of different elements in music, in our life too.
JH What do you listen to?
RB I have an era for "Oratorium (Oratorio)" by
Händel
.
Today the world rushes so quickly and this music a little slows down, allows you to distance yourself from some things.
It's good.
JH.When you were here on this stage in 2005, did you image that your career would progress in this way?
RB When I look back at these 3,4 years after the Chopin competition,
I think it has been a period of much hard work but also I have been very happy,
which gave me more satisfactions as a pianist.
I feel simply happy and lucky when I see the hall full of people who come to listen to good music.
I do what I always like, what I love.
The awareness that I will be doing it for the next years is for me the motivation to work hard.
(End of interview)
---------------------------------------------------------------------------------
Fortunately, I watched the TV interview thanks to the kindness given by fans of Blechacz abroad.
I also received a briefing of this interview by Polish fan Dana.
The way Blechacz talks impressed both of us; honest, thoughtful, quiet but assertive.
The wise young man looks at music, life and the world seriously.
The thoughtfulness and matureness are reflected on how he plays on the instrument.
This segment of interview reminded me of
the interview that Blechacz gave to Belgian media "Ramifications" (French)
in Sept.2007,
where he cited Rubinstein, Paderewski and Raul Koczalski as the pianists who inspired him for playing Chopin.
(Note: Koczalski is mistyped in this French article.)
I didn't know Raul Koczalski (second-generation pupil of Chopin) then
and I listened to some Chopin pieces by Koczalski via Youtube.
I was impressed by the noble, pure sound...