Interview with Blechacz published in "CD Journal" April 2009,
monthly magazine covering classical, rock, pops, Asian pops, J-pops, Jazz& fusion, sound-tracks and movies.
Interviewer: Mr. Takuya Katagiri
Takuya Katagiri:
Music journalist. Born in 1956.
Writes for major music magagines such as "Ongaku-no-tomo (music friend)", "MostlyClassic".
Hosts radio music programs for NHK and J-Wave.
-----------------------------------------------
Rafal Blechacz, who attracted the world's attention as the winner of 2005 Chopin international competition
released the second CD "sonatas", collection of works by classical composers from Deutsche Grammophon.
"I have been fond of playing classical compositions since I was a child.
I chose sonatas by Haydn, Beethoven and Mozart from them.
I wanted to deliver the form of classical sonatas to the listeners
and the works by Viennese classical composers are the best for the purpose.
I also wanted to give a relevance among my selection.
Therefore, I selected the three pieces that were composed in the same period."
Blechacz explains what he intended by the classical sonatas.
"The sonata in by Haydn Hob.WVI:52 is very interesting.
It was composed in his later years and the 1st and 3rd movements are in E flat major
while the middle movement is adagio in E major.
Although it is one of the classicals, I can find many exceptional ingenious ways like this,
which affected the music by Mozart and Beethoven.
The sonata in A major by Beethoven was dedicated to Haydn.
It was composed in Beethoven's earlier years and it may sound more classical than Haydn's.
The piece by Mozart has an atmosphere of piano concerto and is full of ambition. It is rich in contents".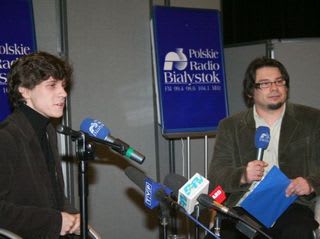 January 2007
Blechacz performed the sonata by Haydn in 2002 Arthur Rubinstein competition.
He has played all the three sonatas in concerts
and says he has matured and has confidence in playing each of them.
"In recitals in Europe, I typically play classical compositions or Bach in the first part and put Chopin in the second".
It is something I didn't expect but it was Bach and playing organ that formed his music basis.
"I began learning piano with Bach. But the first instrument I played with first was the organ.
I play the organ even today if I find any time to do so; occasionally I serve the church as an organist.
Actually I can learn a lot by playing organ.
I can learn how to perform polyphonic music and practice legato with fingers.
The organist uses stop knobs selectively to create tones.
When playing polyphonic music with the piano, I imagine the tones created by organ."
He has a plan to record two piano concertos by Chopin to be released for the 2010 Chopin Year.
I'm really looking forward to that.
"I perform for concerts 40 times a year. The number of offers outnumbers it.
Maintaining the pace is not easy but I would like to keep it.
I've begun studying philosophy at university and I need to set aside the time for that."
Blechacz's calm tone of voice geve me the impression that he is a strong-willed man.