ツィメルマンとの思い出部分のみ、日本語あります。(一番下)
On March 23 in the evening, Polish Radio (PR) 2 broadcast the interview
given by Rafał Blechacz and recorded on March 18,
just before his performance in Warsaw of Beethoven piano concerto No.4.
It is a fragment of broadcast "Muzyka to nie wszystko...",
where Blechacz talks about his favorite concert halls.
The best concert halls for Rafał are: Concertgebouw, Tonhalle, Mozarteum.
First about Amsterdam Concertgebouw;
"The appearance (performance) in this hall is a beautiful experience, wonderful hall.
There is no alternative hall in the world in which the descending steps with red carpet extend below the standing artist.
The door is opened in a beautiful way by two men with the white gloves.(The door has the gold door handle).
When this gate is opened, I see the whole hall. It is the unforgettable experience every time.
Then I get great energy and authentic desire and wish to play concerto or recital.
The steps are for me like relaxation because of a little physical exercise."
Concertgebouw, Amsterdam
Next about Tonhalle Zürich;
"It has very good, living acoustics.
I have verified it myself.
I was walking around the hall when orchestra had its rehearsal.
I was everywhere in each nook, balcony too.
Everywhere the sound was very well heard.
All nuances, colour of music sounded very well".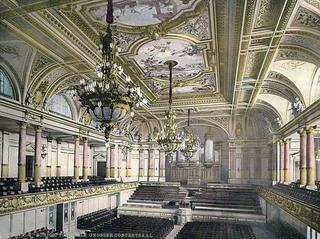 Tonhalle Zürich
Blechacz's concerto/recital in Sept.'06 and March '08
"Of course the festival in Salzburg was for me the big experience.
Hall is beautiful with about 1000 persons, enough for recital.
The public was fantastic like in Warsaw who gave me the big ovation.
It is nice because of this festival place that the public liked my interpretations,
that the audience enjoyed them.
It is place where at the same time the famous pianists meet themselves."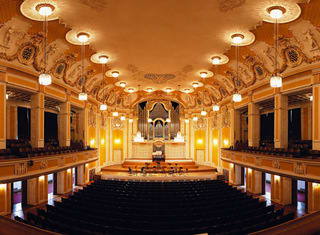 Mozarteum, Großer Saal, Salzburg
"One can learn very much from other conductors, 
playing with various orchestras even the same concerto. 
I see how all change, how the interpretation matures.

I had an interesting meeting with maestro Gergiev.
It can be said that I didn't have a rehearsal with him, rather a scrap of it.

The maestro is a very busy man because he has a concert almost every day.
During the most of the rehearsal with me,
he was speaking on the mobile phone with the other hand conducting.
I was afraid of all nuances.

But I was nicely surprised. The concerto was perfectly played by his orchestra.
I express my admiration for Mariinsky Orchestra and Valery Gergiev.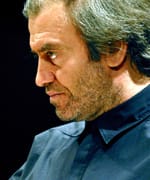 The concerto was in Moscow Conservatory where the famous pianists
like Horowitz, Richter, great orchestras, composers played on the stage.

This awareness helped me like the red steps in Concertgebouw"(laughing).



"Second interesting experience with another orchestra- Russian National Orchestra (RNO) in Japan.
I played Chopin's concerto with Mikhail Pletnev's version.(laughing).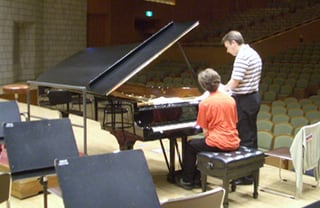 Blechacz rehearsing with Pletnev
May or June 2007



Concerto by Chopin in his instrumantation.
It was different from the normal one that we know.
Sometimes orchestra sounds like Rachmaninov or Tchaikovsky,
sometimes there are more instruments; also the sound is more massive.

In my part there was no change except for in the third movement
where krakowiak dance was played by wind instruments.
I had to accustomed to it and leave the fragment.

But the meeting with maestro Pletnev, having conversations - he is also a pianist -
was very important for me.




Blechacz with Pletnev and RNO
@ Tokyo Opera City, June 2007




The concerto by Saint-Saëns with Royal Concertgebouw Orchestra (RCO) was
for me an unforgettable wonderful experience, too."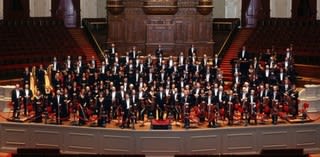 RCO @ Amsterdam Concertgebouw
Krystian Zimerman invited me to himself in Switzerland for one week. 
We spent this time together playing different works by Debussy, "Preludia" by Chopin,
also classic sonatas, some Szymanowski, concerto by Beethoven; but not only by piano.

We were talking together, going shopping together.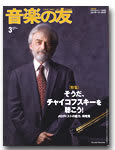 cover of "Ongaku-no-tomo (music friend),
March 2009, Japanese monthly



One day we went to a music shop and Krystian bought me about 20-30 CD's of opera, symphony, piano.
It was an unusual experience.

Krystian wasn't like a teacher but like a partner.
It was fundamentally exchange of opinions.

Krystian played more different works which he had prepared for his program.

The possibility to be with him so near to watch close at hands
to hear sound of piano, his manner.

All were for me very important and remain in my memory for long time.
The contact with so great a person who plays piano is for me the best learning, education.

Krystian said to me,
"You can play it in this way or another, maybe so
or maybe you can change nothing,
decision always belongs to you".


「クリスティアン・ツィメルマンがスイスの家に招いてくれました(07年)。僕たちはドビュッシーの作品やショパンの前奏曲、古典派のソナタ、シマノフスキの曲、ベートーベンの協奏曲を弾いて過ごしました。でもピアノだけではありません。一緒に話をして、買い物も一緒に出かけました。
ある日、ミュージックショップに行った時、クリスティアンは僕にCDを2,30枚買ってくれました。オペラや交響曲、ピアノ曲です。ちょっとあり得ない体験でした。
クリスティアンは教師というよりパートナーとして接してくれました。(彼の話を聞くだけでなく、)2人で意見を交換して過ごしました。彼は自分の演奏会用に準備した曲も弾いてくれました。こんなに彼の近くで、手が見られるほど近づいて、彼の音や弾き方を見ることができる・・・僕にとっては全てが本当に貴重な体験で、ずっと忘れられないと思います。これほど偉大なピアノの演奏家との接触は、僕にとって最高の学びの機会です。
クリスティアンが言ってくれました。
――君はこんな風に弾いてもいいし、別の弾き方もあるだろう。それでいいのかもしれないし、あるいは何も変えられないかもしれない。すべて君が決めることだ。」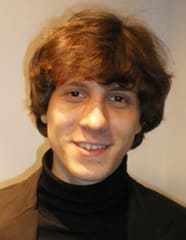 @ Berlin, Dec.2008



Special thanks to Dana for the information ♡