From my archive of reviews/articles,
let me pick up a review on Rafał Blechacz's CD "Complete Preludes by Chopin"
written by Carlos Alberto Heredia Galindo
posted on Cambio.com, Colombia as of Feb. 2 and Nov. 2, 2008.
Original review (Spanish)
The young Polish pianist Rafał Blechacz achieves a new and splendid sound with Chopin.
I've always wondered what is a flash that gives certain interpreters particular sensitivity;
that divine flashing light with which they can give life to the scores
that have been played over and over again
and rejuvenate by their hands?
Perhaps it could be a mixture of human and invisible elements that are put together,
when the great skill developed from childhood allows them to often use both brain hemispheres
to throw their hands and other body parts to different tasks.
Also included is countless musical knowledge, also grown from childhood,
which facilitates the interpreter learning of a musical text
which, once reviewed and placed in memory, can be managed at his will.
Perhaps this or something more is what makes a musician cause in the audience
the greatest of astonishment, or the deepest of disappointments,
and that is beyond his talent,
who sits in front of the instrument,
who is a human being with flaws and virtues,
and as such exposed to the changes in life.
One of these extraordinary artists is the young pianist Rafał Blechacz;
born in Nakło nad Notecią, Poland, in 1985, who has achieved something close to impossible,
when he took a work that had been recorded many times,
and as if by magic, gave a different and reviving dimension.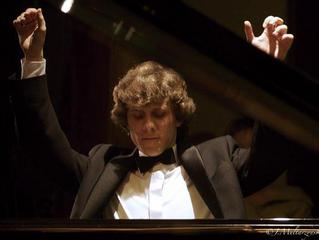 The repertoire: 24 Preludes, Op 28, Prelude in A Flat, Opus Posth.,
Prelude Op 45, and Deux Nocturnes, Op.62, by Frédéric Chopin.
Yes, these are pieces that are part of the Romantic canon,
but thanks to the interpretation by Blechacz,
they are able to get away from the bland and insignificant places.
His Chopin is magical and absent of all flattery;
his Chopin is exuberant, insightful and energetic.
Phrasings are perhaps similar to those executed in Chopin's life;
intimate, destabilizing, revealing
and, above all, discreet,
but loaded with a sophisticated force.
Not surprisingly, this young pianist Rafał was the winner
of the famous Chopin International Piano Competition in Warsaw in 2005,
attended by 257 pianists from different countries.
His blend of technical ability and humanity go hand in hand without trouble
resulting in the fascinating experience when listening to him.
I can find no other decent way to conclude this review
than borrowing boldly the words of George Steiner:
"The domain of thought, the mysterious rapidity of thought, exalts man above all other living things.
But this leaves him converted into a stranger to himself
and to the enormity of the world. "
Maybe in order to accompany us faced with such an enormity,
there is the music of Chopin left in the hands of Rafał Blechacz.
BY CARLOS ALBERTO HEREDIA GALINDO
Blechacz will be in Spain in late April to early May,
having six concerts (two recitals, four concertos; Beethoven No.4 & Saint-Saëns No.2)