Concertclassic.com
posted a review on Rafał Blechacz's recital in Paris on March 27, 2009,
written by Jean-Charles Hoffelé
Original review @ Concertclassic.com (French)
Paris - Report
- Rafał Blechacz at the TCE (Théâtre des Champs-Elysées) - Young Poland
The silhouette could not be more juvenile, it would mean his performance also, but not really.
What control, what the art of construction, and what sense of taste.
Definitely, Rafał Blechacz surprised me by his maturity.
Italian Concerto fairly babbles but is quite right,
17th Mozart sonata is played subtly colored but passing withoug saying much
and yet should be admirable.
The piano sounds fine and light, digitalized without weight but what is said is quite rare nowadays.
For perilous Variations op. 3 Szymanowski - not those that usually Krystian Zimerman plays (that is opus 11) -
the sound is digged deep towards the end and his hands speak, finding the meaning.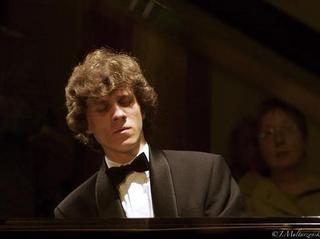 People had high expectations for Chopin of the second part and they were not wrong.
Third Ballade is beautiful in sound of evening twilight, breathed with subtlety,
and Opus 17, where Blechacz does not hesitate to idealize the popular dance,
highlighting the contrasts and deploying cantabile by
bel canto
singers,
despite a small dramaturgy not showy in the crescendo of the minor.
The summit, Polish fantasy
perdendosi
, very good sight, sung in the shade with a subtle accent
that prohibited him from being totally tragic.
This is the brightest principal art, but also the limitation of this art is it is still too modest.
For the adagio of Mozart's Sonata, the parts lost in the most of Polonaise Fantaisie,
one should have just looked behind the music, he should have been looking for the fault or the abyss.
This means that, just now, a magnificent instrumentalist is already born before us,
and in the near future, the wings of this musician certainly will let him fly.
by Jean-Charles Hoffelé
Théâtre des Champs-Elysées on 27 March.