RFI: Radio France International posted a review on Rafał Blechacz's recital
in Paris on March 27, 2009 at Théâtre des Champs-Elysées.
by Stefan Rieger
Original review (Polish)
This content is provided by text and audio.
Blechacz in Paris
The concert-hall was almost full of people though it was not bursting at the seams.
It is a favorable review in advance because post factum (after the event) reviews have not yet been in France.
At least half an hour of ovations and three delicious encores.
In Paris recital by Blechacz at the Théâtre des Champs-Elysées on March 27, nobody failed,
perhaps only some outside blasé critics drew pleasure by finding holes in the whole.
As one of those keenly looking for holes in the seating,
I should share a handful of doubts at the beginning that they weigh little
in the face of the Blechacz phenomenon.
Poland has good luck which I would say is
disproportional
.
There are three Poles among a dozen of greatest living pianists: Zimerman, Anderszewski and Blechacz.
They differ each other but even more paradoxically join together.
What bizarrely joins them is what seems to deny Polish paradigm :
procrastination, sobriety, speculative approach to art...
In other words :all three play more with head than the guts.
As an admirer of Gould, I should not have anything against that.
From pianists who are moving on roads like ruts of great repertoire, I expect exciting things;
The things which will deny everything what has been said on this theme.
The pianist ought to play on listener's hormones because he lives not only with arithmetic.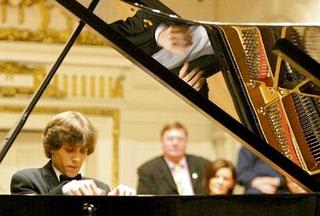 There is no shortage of astounding things at piano of Blechacz:
unexpected authority in young man, who communes with a keyboard like aged man
who has all the doubts behind him and rulers without scruples:
early simplicity of playing that takes another dozens of years
(and which links him with Kapell, prematurely deceased Prince of crystal sober music);
terrific sense of connection with the calculation of top-flight craftsmanship.
Only thing that he lacks and divides him from the great talent of a genius:
a minimum of spontaneity and imagination, more abyss and doubts in Ballade No 3
or Polonaise Fantasy of Chopin,
a bit more slack in Mozart.
Rafał matures well, but he is still investing,
-perhaps under the influence of Zimerman -more in mind than in the viscera (guts).
Personally I support, but not everybody understands it.
The latest album Blechacz, sonatas of Haydn, Beethoven and Mozart, recorded for Deutsche Grammophon,
was adopted by critics with the lukwarm enthusiasm.
For me it is extraordinary, a miracle to Piano crafts.
I am looking forward to more ease and depth, which may come with time.
Let us listen to the Scherzo of Beethoven sonata,
which was the last of the encore by Blechacz at the Théâtre des Champs Elysées.
***
Special thanks to Dana for helping understand the content with some unfamiliar journalistic jargons.