On Sunday, April 26, 2009, Rafal Blechacz had a semi-recital in Eindhoven, Holland,
(Mozart, Chopin).
It ended with a huge, enthusiastic standing ovation.
↑ The news brought by Roman.. Thank you (as always) for the very good news♪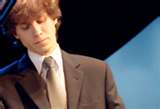 Eindhovens Dagblad (Eindhoven Daily) posted a review on Blechacz's recital
at Frits Philips Music Center in Eindhoven on April 26.
Original review (Dutch)
↓ This English version was prepared and offered by Jan, a fan of Blechacz from Holland.
Millions of thanks to Jan♪ 
CLASSICAL MUSIC - Blechacs showes a profound engagement with Chopin
by Cornélie Hoendervanger
The Polish pianist dedicated half of his program to his brilliant gifted compatriot Chopin.
He felt a close relation with the music of Chopin, he won gloriously the Chopin competion.
A congratulation to the Muziekcentrum, that could introduce the young master (24 years old) in Eindhoven,
in spite of the fact that he seems to play not so many recitals per year.
Blechacz is a very original artist and focuses also on the deeper layers,
that are hidden in the brilliant pianistics.
The composer Liszt said about the performance of the very demanding works of Chopin:
"Look at the trees, the wind plays with the leafs, and life/sound flourish around it,
but the tree stays the same.
That is the rubato of Chopin."
Blechacz planted a solid tree, firmly rooted.
The roof of foliage changed colors by his playing from fine to supra fine,
and was sometimes dazzling intens.
What a richness of shades and what an intensity! 
The summit were the Mazurkas opus 17, with poetry and narratively performed.
He really played the stars from the Polish heaven.
Whirling and thrilling sounded the Ballade and the Heroic Polonaise.
Blechacz started the recital with Bach and Mozart.
In the Italian Concerto and the Sonata KV 570 the corner pieces were somewhat rapid, turbulent and with sharp accents.
At this point and in the Beethoven encore, one could hear that he has still a "young hounds manner".
But a beautifully expressive style decorates/graces the two slow parts:
that sounded mature and with wisdom.