Excerpts from the interview that Rafał Blechacz gave to German Deutschlandradio Kultur
in conjunction with his playing Chopin piano concerto No.1 with Berlin Radio Symphony Orchestra
directed by Marek Janowski on December 20, 2008 at Berlin Philharmonic.

The interview was held in English but German translated & edited version was broadcast by the radio station.

The following segment was prepared by Johanna, German fan of Blehcacz,
by selecting some noteworthy parts from the edited version.

Let me extend my sincere appreciation to her for the big contribution.
**********
(from the introduction)
Piano concerto No. 1 raised expectations in Chopin to establish a Polish national opera,
but he continued concentrating on piano music.
(from the interview)
Blechacz finds it very important for a young pianist to play different musical styles,
one needs a big repertoire.
Organ - not piano - music was his first passion.
His earliest childhood memories are connected with the church and the organ music.
Shortly before his birth, his parents bought a piano.
Interviewer: Pianists are admired in Poland,
in 1919 the pianist Ignacy Jan Paderewski became prime minister of the young Polish republic.
Blechacz: The Chopin competition is the most important competition in Poland
but I know that there are more important ones worldwide,
e.g. the Tschaikovski or the Busoni competitions or the one in Leeds.
Nevertheless I was happy about my victory because it could be the key to a career.
There is a strong tradition of Chopin interpretations in Poland,
I have got many recordings by Rubinstein and Paderewski
and I let myself be inspired by their individual conceptions.
There is a close connection between these elder Polish pianists
and I have learned a lot from them about the right interpretation.
Zimmerman is my idol and he has helped me a lot
but 30 have passed since his victory in the Chopin competition,
the situation now is another one
and I have to find an individual access to music.
interviewer: You don't puzzle about the ideal piano sound like Zimmerman
and you are also reserved towards historical performance practice.
Blechacz: I have tried out historical instruments especially for my CD
"sonatas" and I find it interesting.
But those old instruments don't fit into the big modern concert halls.
Nevertheless, this knowledge has made playing the Sonatas easier.
I love Chopin's music and want to play it during all my life.
The reaction of the audience is important to me.
Solo recitals I like the best because then I am alone on the stage.
But I also like playing with other musicians,
unfortunately I have only few experience with chamber music
but I want to take care of that in the future.
First I want to introduce myself in the important concert halls.
interviewer: Your way of approaching music by orchestrating it in your mind
seems to predestine you for conducting.
Blechacz: (Blechacz doesn't say no, but) it is a subject for the future.
Because Chopin is very popular, it is no wonder that my CD "Preludes" is sold out, also in Japan.
In Poland, also Szymanowski is popular.
I have studied some new pieces by him - Sonatas and Preludes
- which I like very much and I want to record them.
-----------------------------------------------
This segment of interview prompted me to recollect
the review
written by H.Yoshida, Japanese critic.
He wrote that by listening to Blechacz's CD "Preludes" by Chopin,
with the elegance that he found frequently in Blechacz,
he was able to return back to the Chopin that he had heard once in earlier days.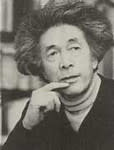 Yoshida is quite influential, respected.
He becomes 96 years old this year.