On April 28 at 21:00, Rafał Blechacz gave a recital at Palau de la Música Catalana, Barcelona, Spain,
the first leg of his tour in Spain.
The recital ended a short while ago.
Numerous voices of "Bravo, bravo!!", unending ovation and two encores
concluded Blechacz's recital in Barcelona.
The house was almost full.
Thank you Roman for the excellent news♪
I sincerly hope that Rafał Blechacz , his relatives & fans, especially those in Americas are in good health♪
Don't be beaten by the flu!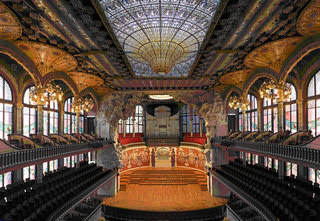 Palau de la Música Catalana
Program:
Bach Concert italiano
Mozart Sonata KV 570
Szymanowski Variaciones op.3
Chopin Balada núm. 3
Chopin Nocturnos op.62
Chopin Mazurkas op. 17
Chopin Polonesa op.53
Program page
Program page 2
From here, Blechacz is travelling to northern part of Spain to perform concerto.
Bon voyage!
Local newpaper showing preview of concerto in Pontevedra (Spanish)
It introduces the program, the maestro and the soloist.
About Blechacz, it says,
"The prestigious pianist Blechacz will perform tomorrow.
Blechacz is one of the pianists with outstanding career today.
His career is marked with numerous awards and honors,
including the first prize in the international Chopin Piano Competition in Warsaw.
He is regarded as the second most distinguished Polish artist in the history of Poland following Krystian Zimerman."